Apart from the towering mountains, breathtaking beaches and the magnificent deserts, Oman is also known for its caves. Found in varying types and lengths, sizes and geographic formations, these caves are quite popular among tourists. There are a large number of caves in the Dhofar region, some of which have springs near them.
Al Marneef cave, about 40 km from Salalah, in Al Mughsayl area, is one of the most beautiful caves and a major attraction for tourists and residents. According to Oman's Ministry of Tourism, "Marneef cave is in close proximity to Al Mughsayl Beach, which is one of the most preferred picnic spots for Salalah locals, residents and tourists.There are many benches besides the cave, where tourists can sit and take a view of the cave or Mughsayl Beach or the blowholes by their side. It's definitely a nice area to view the surrounding landscape from."
Located at the foot of Jabal Shams, lies the famous Al Hoota Cave. It is about two hours drive from Muscat and half an hour from Nizwa. Known to be one of the best-kept secrets in the Sultanate of Oman, it contains a rich ecosystem that includes four lakes. The cave is also well-known for housing a rare blind fish, Garra Barreimae, which is more commonly known as Bu Naseh. There are many other species that live in the caves, including bats, arthropods, mollusks, spiders, snails and water beetles.
The cave extends for 5 kilometres underground, but it may only be accessed for a distance of 860 metres, ending at Cave Lake. According to Oman's Ministry of Tourism, "This cave has two holes through which water cascading from the mountain top enters via the (Al Hoota) hole, and exits through the other (Al Falaah) hole after passing through the connected cave passageways.,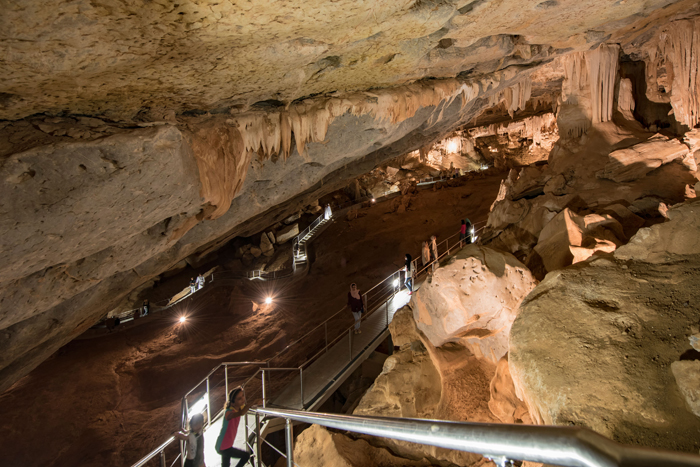 "Al Hoota Cave Lake is located at the end of a footpath. It is 20 metres deep, but there are many parts whose depth surpasses that. It is rumoured that it extends up to Tanuf Valley in wilayat Nizwa. The lake contains several species of blind fish: some are without eyes but have long bristles to sense their food, while others have very small eyes. Also living in the lake is a rare type of blind fish, coloured a translucent pink so that you can see the skeleton of these small fish."
Fascinating features such as stalagmites and stalactites are the main attractions of this cave. Some of the other well-known caves are Abu Habban Cave in Wilayat Dimma in the Al Sharqiyah North and Al Kittan Cave in Ibri. Al Kittan Cave is also known as the marble cave and has beautiful geological formations and rock engravings. Jernan Cave in Izki, Majlis Al Jinn Cave at the foothills of the eastern Al Hajar Mountains and Muqal Cave in Wadi Bani Khalid are some of the other caves of Oman.