Argentina began three days of mourning on Thursday following the death of football legend Diego Maradona.
For a nation where football is seen as a religion, Maradona's death at the age of 60 has sent his homeland into widespread grief. His coffin now rests in the presidential palace in Buenos Aires for a period of lying in state.
Thousands of mourners, many in tears, gathered in streets, around stadiums and at the palace in the Argentinian capital to pay their respects, as well as their gratitude, to arguably football's most iconic figure.
Maradona will lie in state at the pink-hued Casa Rosada palace from Thursday through Saturday. Vast numbers of people are expected to visit his casket as part of three days of national mourning declared by President Alberto Fernandez.
"His unparalleled footballing skill transformed him into one of the best-known people in the world, crossing frontiers and being universally recognized as the world's best player," said the official mourning decree.
Reaction to the death of 'soccer's poet'
An outpouring of condolences have been uttered — from presidents to the pope, from legendary figures within football to sport as a whole.
Pope Francis, a fellow Argentine and supporter of Buenos Aires club San Lorenzo, said he was keeping Maradona in his prayers, while the official news portal for the Roman Catholic Church, Vatican News, described Maradona as "soccer's poet."
Lionel Messi, the current Argentinian national team captain and wearer of the number 10 shirt Maradona adorned throughout his career, wrote on social media: "A very sad day for all Argentinians and for football. He has left us but he isn't going anywhere because Diego is eternal. I'll remember the lovely moments I experienced with him and I send my condolences to his family and friends. Rest in peace."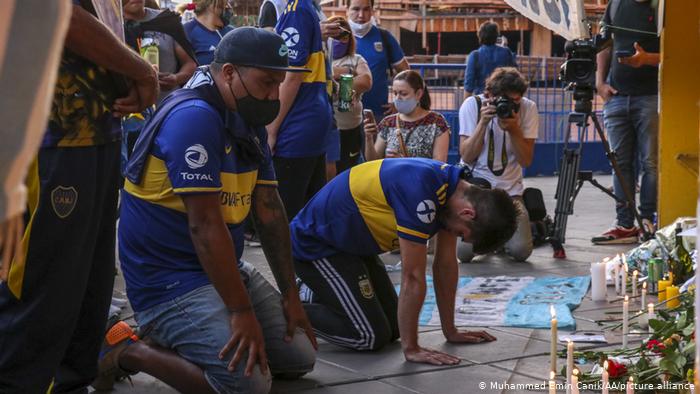 Genius

German football legend Franz Beckenbauer described the news as "incredibly sad."
Both Beckenbauer and Maradona have a long history together, not least the two World Cup finals of 1986 and 1990, when the "Kaiser" pitted his wits as manager of West Germany against Maradona's Argentina at the climax of both tournaments.
Beckenbauer first came across the diminutive Argentine in 1978: "That's when I saw him for the first time and thought this is not a footballer, this is an artist. He was a genius. In the 70s and 80s, the best footballer in the world."
Maradona was born in Lanus, just south of Buenos Aires, on October 30, 1960. He represented Boca Juniors, Barcelona and Napoli, as well as the Argentine national team. He enjoyed a career which included incredible highs, most notably captaining Argentina to World Cup glory in 1986, but also a life with a number of lows, as he fought drug and alcohol addiction.
Hand of God

He won games, leagues and cups almost single-handedly — quite literally in the 1986 World Cup in Mexico, when he punched the ball into the net against England with what he called the 'Hand of God,' before rounding almost the entire team to score the second goal of the game.
Maradona transcended his sport, as one woman in Germany explained to DW: "I think it's very sad. I don't know him very well in terms of football but I've heard about him again and again as long as I can remember."
Thousands of people in Spain and Italy poured onto the streets to honor Maradona who plied his trade in both countries during his club career.
But it was in his homeland where his loss was being most keenly felt. Many Argentinians could identify with someone who came from poverty and one Boca Juniors fan in Buenos Aires told DW: "For me Diego is everything. As a Boca fan, as an Argentine, he is the greatest." While another, who was wearing a cap of Boca's city rivals River Plate, said: "I have no words. My voice trembles as I speak, I'm afraid I will start crying."