Mazda: A drive to remember
Roundup
Tuesday 07/April/2020 17:03 PM
By: Times News Service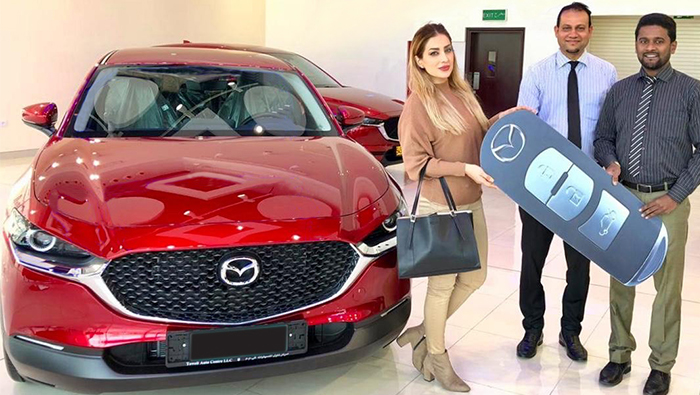 Muscat: The CX-30, Mazda's class-leading SUV crossover has recently been the talk of the town and has received high praise from a number of customers in Oman.
Bridging the gap between the subcompact CX-3 and CX-5, the brand new Mazda CX-30 which was launched earlier this year nationwide, is a model that brings Mazda's next evolution design to life. The Mazda 3 based crossover aimed squarely at singles, young couples and families is designed to be spacious and responsive and is always ready for wherever the road takes you. The vehicle's versatility and charm are what attracted a happy customer, whom we recently had the pleasure of hearing from.
Mojdeh Babaheidari, a loyal, happy and proud owner of the all-new Mazda CX-30, recently spoke of her experience and her love for Mazda, saying, "I have always been an admirer of Mazda and the quality vehicles they produce year after year. The new CX-30 caught my attention for all the right reasons. Its exceptional functionality, precise control, responsive handling, distinctive design and overall premium feeling are among just a few factors that made my decision to purchase this beautiful model so easy. The CX-30's aesthetic design and its striking interplay of light and shadow caught my eye in the first glance itself, all its other amazing features are a bonus. My family and friends have complimented me for my choice many times, thanks to the vehicle's good design and inviting interiors that represent luxury and comfort. CX-30's i-ACTIVSENSE range of technologies is second to none. I feel safe in my CX-30, thanks to its active safety technologies like its blind spot sensors that provide a great driving experience as well as a sense of safety whilst on the road. My favourite colour is red and the beautiful styling and colour quality that Mazda has used adds to the SUV's vibrancy and stunning looks. One of the best things about my CX-30 is also how affordable it is thanks to TAC's offers and promotions. Towell Auto centre's sales staff were amazing from the time I entered the showroom right up until I got my keys to my Mazda. Their prompt and diligent service post-sale for which they are well known in Oman is also something that I am looking forward to as a proud Mazda owner.
According to Towell Auto Centre (TAC), the sole distributor of Mazda vehicles in the Sultanate of Oman, "With the CX-30, Mazda offers an appealing package of performance, fit and finish with an overall premium feeling for customers. An enjoyable, balanced driving experience coupled with polished dynamics, it delivers an impressive and naturally flowing feel as you drive in the city and across different terrains. By taking huge strides towards safety, great design, amazing performances and innovation in technology, the second vehicle in Mazda's next-gen line-up, the CX-30 marks a new era in Mazda's history of producing exceptional crossovers. Strongly enforcing Mazda's school of thought, the Japanese automaker's cars are not just easy on the eye but also deliver a great performance on the road as well, thanks to its human-centric philosophy. It's no wonder then that our customers have so many good things to say about their new Mazdas."
In Oman, TAC is recognised as a trusted name in customer service and a pioneer in the automobile business since 1972. A group company of the W J Towell Group, TAC takes off from the principle of its parent company and ensures the easy availability of high-quality motor products coupled with the highest standard of service to its esteemed customers.
Mazda has brought quality to the roads of Oman, and TAC has made owning a Mazda an absolute joy, thanks to their excellent after-sales service, availability of genuine parts for all Mazda models, their efficient staff, amazing promotions and innovative solutions for better customer experience.