Omani diver breaks Asian record in free diving
Energy
Monday 15/July/2019 11:14 AM
By: Times News Service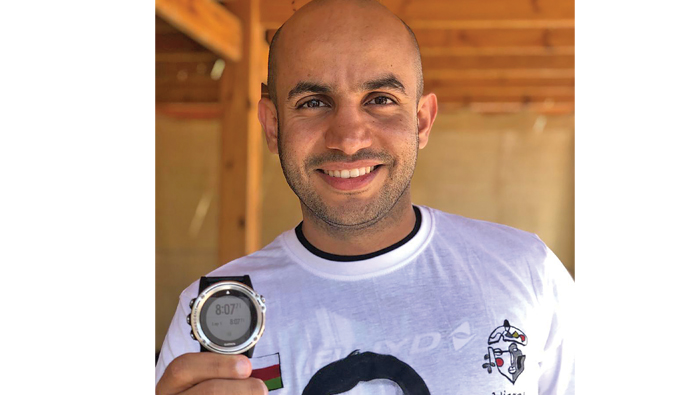 Muscat: Omani diver Ibrahim Al Salatni has broken the Asian record for free diving, clocking a time of eight minutes and seven seconds. The previous record of seven minutes and 51 seconds was held by a Japanese national. Ibrahim's success comes after training for nearly four years, and he now aims to be among the top 10 divers in the world
Speaking about his world record, Al Salatni said, "I dedicate this achievement to my country; when this record is mentioned, the Sultanate of Oman will be named before Ibrahim Al Salatni."
Al Salatni's record came at a tournament organised in Egypt by the World Diving Organisation, under the umbrella of the Professional Association of Diving Instructors (PADI). Before establishing this record, Al Salatni had won first place at the Fazza Championship ,which takes place in the UAE, for two consecutive years.
He added: "These two tournaments were among the toughest championships I had ever faced. When I took part in the Fazza Diving Championships, I broke the Gulf record."
To gain more experience and understanding of the sport he had first taken up as a hobby in 2014, Al Salatni decided to extend his participation beyond Arab competitions and began to enter all free-diving tournaments.
Challenges
It was, however, not easy to achieve this record. Ibrahim faced many challenges – psychological, physical and mental – on the way to winning the championship. "Ever since I began this as a hobby, my aim was to achieve a record for the Sultanate, and now I have managed to achieve that goal and I am looking for even more," he said.
**media[1042952]**
"It was necessary for me to undergo intensive training in holding oxygen for long periods of time under water."
"It takes effort, plenty of practice and quality training by experts who have the experience and full knowledge of diving," added Al Salatni. "This helps the body to prepare to take on large amounts of oxygen, so it is necessary to continuously practice training until we reach the required level."
Ibrahim was among a group of athletes welcomed back to Oman on Monday, 15 July, where he was given an award by Oman Airports for his achievements. Also awarded were the Sultanate's Karate Academy champions, who won 21 different medals at an Iranian training camp held in Shiraz in the kata and kumite competitions.