Muscat: The Interventional Pain Management Team at the Palliative Care Department of the Sultan Qaboos Comprehensive Cancer Care and Research Centre (SQCCCRC) confirmed the success of the first-of-its-kind surgery to inject medication just on the right target, in order to control chronic pain associated with cancer for a patient in Oman.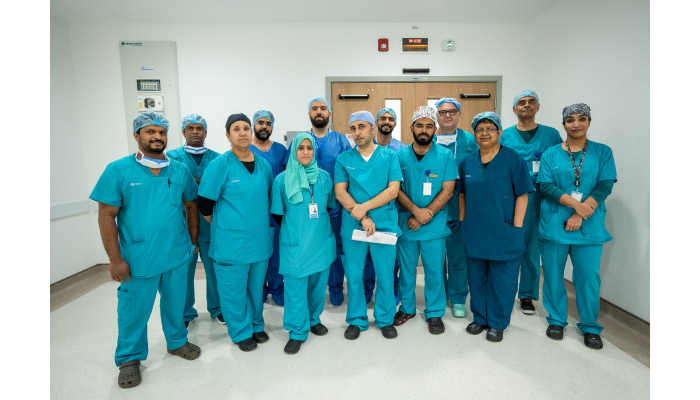 The implantation of an intrathecal pump in a patient is one of the advanced procedures that offer a radical solution to chronic pain in cancer and non-cancer patients. This pain cannot be relieved by the normal way of receiving narcotic pain medication orally or through intravenous injection.
Professor Roberto Aricioni, Senior Consultant for Interventional Pain Management at SQCCCRC, stated that the medical team performed the surgical procedure to permanently implant an intrathecal pump that delivers medication to the spinal fluid to treat chronic pain. This was implemented as a final solution after the medical staff had exhausted all standard pain management therapies, which did not work with the patient.
He explained that the pump is implanted under the skin, and it is connected to the spinal canal where the medication goes through a catheter and into the intrathecal space around the spinal cord accurately. The pump is filled with a drug such as morphine, Ziconotide (painkillers), or Bupivacaine (local anesthetic), and is programmed by a computer to continuously release a specified dose determined by the physician. Professor Aricioni added: "This treatment is favorable and most appropriate for the patient's case as the morphine released around the nerves directly will achieve immediate effectiveness."
Samah Said Al Sarmi, Advanced Nurse Practitioner specialised in Pain Management indicated that after implanting the device in the patient's body and pumping it with necessary medicines, the device is programmed and operated electronically and remotely. This is done through a tablet used specifically to program appropriate doses for each patient, as well as to control the pumping of these doses around the clock and monitoring other vital indicators.
Dr. Amna Al-Harasi, a palliative care and cancer pain consultant at SQCCCRC, said that this procedure helped the patient to reduce over 50% of overall morphine equivalent daily dose, and reduce side effects encountered with very high doses of narcotic pain medications like nausea and hallucinations, which he suffered from without any positive response in pain relief. This procedure contributed to the patient's ability to continue sessions for cancer treatment. In addition, it improved the patient's quality of life, and he was successfully discharged from the hospital to practice daily activities with his family.
It is worth noting that the Palliative Care Department is striving to provide the latest recommended treatments, to deal with difficult cases of pain and symptoms associated with cancer or its treatments, and to carry out the necessary interventions to help the patients overall quality of life.