For those who have grown amidst the aromas and flavors of Indian food perhaps need no introduction to a traditional Gujarati thali.
The word thali comes from the word thaal which means a large circular tray. This is where food was traditionally 'placed' for consumption. From a simple roti that is homemade flatbread, to puri (deep fried bread), a variety of shaak (vegetables) prepared with different vegetables and spices, a plate from the popular Indian state Gujarat emanates royalty by all means.


A Gujarati thali has one or two steamed or fried snacks like farsans , green vegetables, pulses like beans, chickpea or dry peas, yoghurt dishes like kadhi, dal and sweets like halwa, basundi or shrikhand.

Some of the popular must try Gujarati dishes are:

1) Dhokla

Made of fermented gram flour, this steamed dish is quite popular as a snack. Garnished with fried mustard seeds, green chillies, cumin seeds and grated coconut it is generally eaten with sweet chutney and coriander chutney. hokla is one of the most loved snacks around the country. So to give your regular dhokla a twist, here we have some unique recipes for you to try. And if you are one of those who like to try different variations, you can go for vegetable dhokla, cheese chilli dhokla and more.
2) Thepla

A staple in most Gujarati households, theplas are flatbread made with fenugreek leaves and whole wheat flour. Slightly bitter in taste, these flatbreads are delicious snacks one can have any time of the day. It is best served with curd, pickle, or red garlic chutney.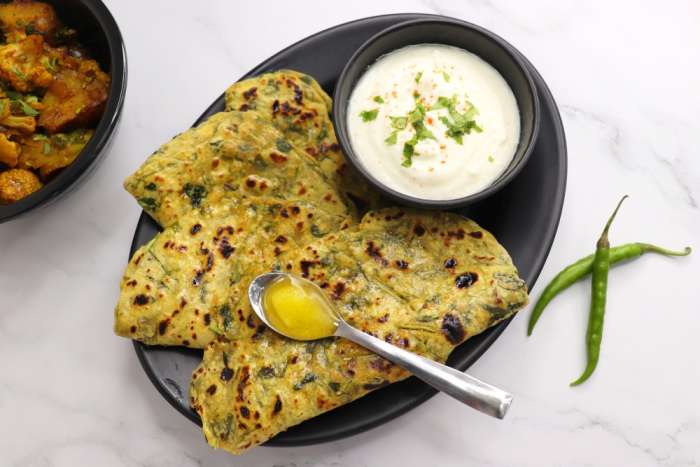 3) Undhiyu

This is an iconic Gujarati dish. This traditional Gujarati curry is prepared with many fresh vegetables which includes brinjals, unripe bananas, green beans, peas, potatoes and purple yam. It gets cooked in a unique inverted clay pot. The name "Undhiyu" is derived from the Gujarati word "undhu" which means upside down. Seasoned with spices, grated coconut, and palm sugar, this dish is garnished with chopped peanuts and toasted grated coconut, and served with rice and puri.

4) Handvo

Often called a cake with vegetables, to prepare handvo one needs to ferment urad dal and rice. After mixing the batter and the vegetables, the cake is baked and garnished with sesame seeds. Handvo acts like a one-in-all meal and is eaten with tangy green chutney and a hot cup of tea.

5) Basundi

Basundi is a traditional dessert in Gujarat. In this milk, it is boiled in a thick bottomed pan until the amount of milk is reduced and garnished with almonds and pistachio.