The journey of Times of Oman is a story of commitment, determination, and immense hard work.

Though the roads traversed during the long journey have not always been smooth, it has been a fulfilling one.

Since its inception 48 years ago on 23 February 1975, Times of Oman has literally been the timekeeper of this beautiful nation, meticulously and painstakingly chronicling every detail of our country's evolution from strength to strength, redefining journalism, creating awareness and adding value to everyone's lives.
Today, I can proudly say, Times of Oman reaches over 65% of Oman's population through our 360° platforms.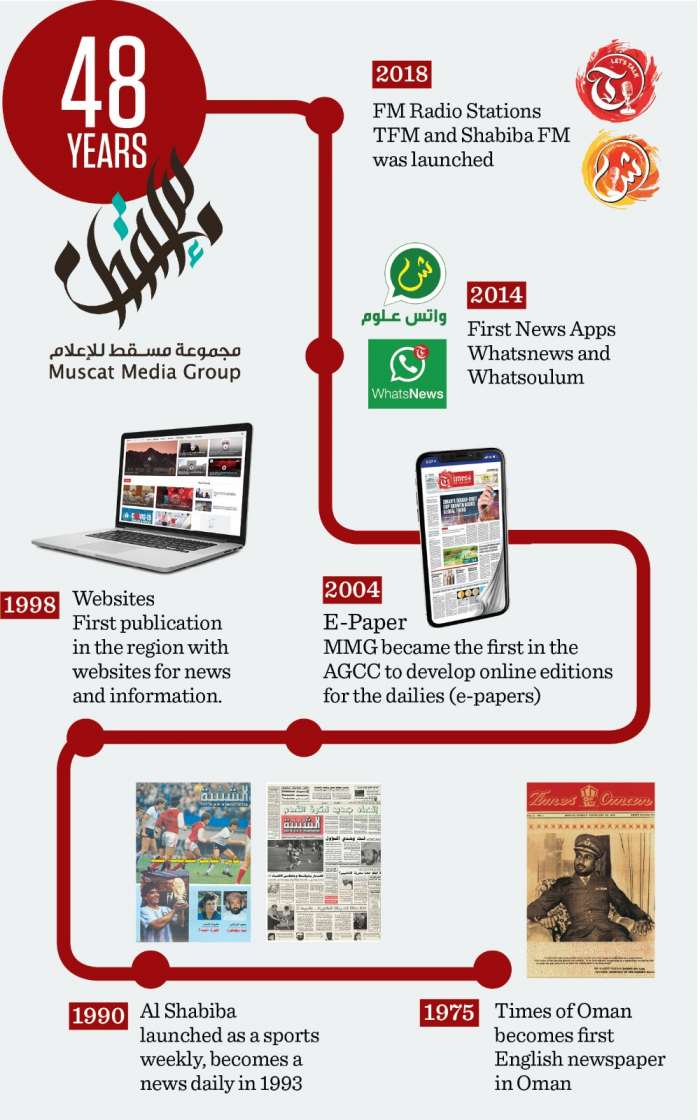 The Times of Oman website is the most popular platform today and receives more than 20 million views a month, while our Times TV channel provides plenty of diverse videos to our wide range of customers.

Our radio station TFM provides better options for news and entertainment to people in Oman. We also have similar offerings for our Arabic publication, Al Shabiba. It is important that there is synergy between all these elements.

Today, as we step into our 49th year of being the most trusted media group in Oman, we gracefully retrace our steps back to the year 1974 when an English newspaper was perhaps just a dream for the people of this nation.

In fact, the newspaper would not have come into existence if that single telex from Singapore had not reached the founder of Times of Oman, Late Essa bin Mohammed Al Zedjali's desk while he was serving as director in the Ministry of Foreign Affairs.

The telex came from a company called Flying Tiger Corporation based in Los Angeles, USA, asking for an overflight permission and as the director of the department, it was part of his duty to give permission to commercial flights, military flights and personal flights flying over Oman.

They sent the telex to the Ministry of Foreign Affairs addressing the country as, 'Muscat, Oman, Saudi Arabia'. This infuriated Late Essa bin Mohammed Al Zedjali so much that he kept it [telex] on hold for three days. That's when he thought why couldn't Oman have an English newspaper that would put this beautiful nation, which remained happy on its own, on the global map?
February 23, 1975

After having received the necessary approval from the Ministry of Information and intense hard work of ten months, Times of Oman was born on February 23, 1975.

Since then, there has been no looking back. From giving an insight into events and trends, both national and international, and maintaining our credibility and reliability, relevance and high standards, Times of Oman has grown by leaps and bounds.
While the newspaper has had its share of trials and tribulations, it has been able to weather the storm and sail in this media ocean, always ahead.
The past 48 years can be summed up as a kaleidoscope of memories, friendship and relationships and how our organisation has undergone changes from time to time to be stronger and certainly more efficient than ever before.
Today, as we celebrate 48 years of success and step into the 49th year of our publication, we stay strong with our unwavering efforts to connect the glorious past to a bright future.
Technology has played a significant role in the evolution of the news and media industry and we, from being just print media, proactively entered the digital landscape early on in Oman. Owing to the extensive use of digital sources, the reach of journalism, social media, and public engagement is immense.
Checking for news online through search engines, social media platforms and smartphone alerts has become almost a habit. While internet and social media platforms have made news accessible, the news cycle has also been moving incredibly fast. This has also planted seeds for fake news to flourish where any information can go viral without any fact-checking.
As a conscientious and responsible media group, we have combated disinformation and fake news judiciously without undermining the benefits of digital media.
We have ensured that we deliver high quality journalism and remain at the helm as the most trusted media house in Oman and the world.

As we celebrate our milestone, to all our employees, readers, well-wishers and friends - I thank you for your continued commitment to Muscat Media Group.