Muscat: His Majesty Sultan Haitham bin Tarik and Sheikh Mohammed bin Zayed Al Nahyan, President of the United Arab Emirates (UAE), exchanged orders and commemorative gifts at Al Alam Palace this evening on the occasion of the visit made to Oman by the UAE President.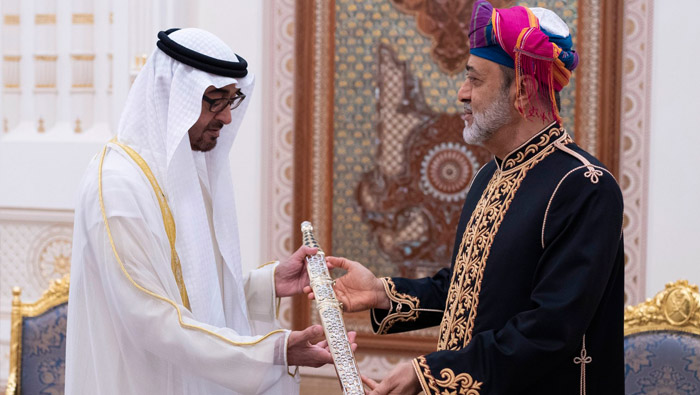 His Majesty the Sultan conferred the "Al Said Order", Oman's most lofty accolade, on Sheikh Mohammed bin Zayed Al Nahyan, in commendation for Sheikh Mohammed and in manifestation of the deep-rooted fraternal relations binding the two countries.
Meanwhile, Sheikh Mohammed bin Zayed awarded His Majesty Sultan Haitham the "Order of Zayed", the UAE's most magnificent decoration, in commendation of His Majesty the Sultan and in acknowledgment of the two countries' centuries-old fraternal relations.
His Majesty the Sultan also presented Sheikh Mohammed bin Zayed with a commemorative gift, which was an Omani sword. The UAE President reciprocated the gesture, presenting His Majesty the Sultan with a replica of Sheikh Zayed Grand Mosque.