Muscat: A number of the Sultanate of Oman's governorates witnessed heavy rains from Monday, November 29, 2021 to Wednesday, December 1, 2021.
Some governorates witnessed rain of varying intensity, accompanied by downward winds and hail, which led to the overflow of wadis.
Heavy rains associated with downward winds and hail fell in the wilayats of Shinas, Saham, Liwa, Sohar, Suwaiq and Al Khaboura in the North Al Batinah governorate.
In Musandam, the wilayat of Khasab witnessed heavy rainfall, which led to the overflowing of wadis. In Al Dakhiliyah governorate, the wilayat of Bahla, Samail, Nizwa, Izki and Al Hamra witnessed rains of varying intensity.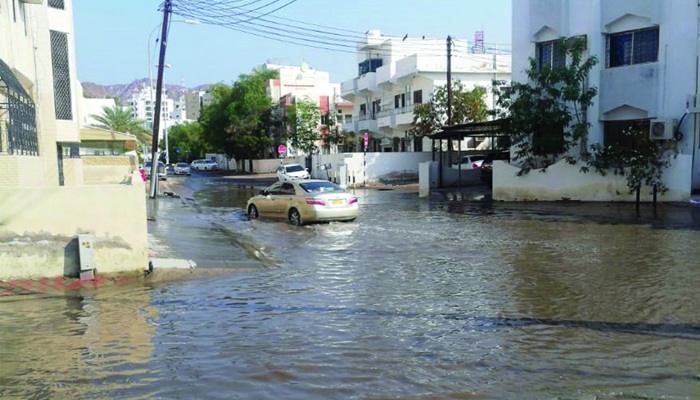 Heavy thunderstorms was witnessed in the wilayats of Al Awabi, Rustaq, Barka and Musannah in the South Al Batinah governorate.
The wilayats of Al Mudhaibi, Dima Wattayeen, Ibra and Al Qabil of North Al Sharqiyah, as well as the wilayat Sur of South Al Sharqiyah witnessed heavy rains of varying intensity.
Some of the wilayats of the governorate of Muscat, namely Quraiyat, Muttrah and Seeb, witnessed rain. According to the Ministry of Agricultural, Fisheries and Water Resources (MAFWR), the amount of rain recorded in a number of wilayats during November 30 to December 1, 2021 were as follows: 105 mm in the wilayat of Saham in North Al Batinah governorate which was the highest, followed by the wilayat of Izki in Al Dakhiliyah governorate with 63 mm and the wilayat of Rustaq in South Al Batinah governorate with 35 mm.
The wilayat of Al Mudhaibi in North Al Sharqiyah governorate and the wilayat of Al Awabi in South Al Batinah governorate have recorded 32 mm each, the wilayat of Samail in Al Dakhiliyah governorate 30 mm, and the wilayat of Nizwa in Al Dakhiliyah governorate 21 mm.
The Civil Aviation Authority (CAA) has issued three weather alerts regarding the heavy rain, urging people to take precautions and caution during thunderstorms, not to cross valleys, avoid low places and not go to the sea.