PUMPKIN SOUP
Ingredients
2 cups pumpkin cut into big chunks
1 tbsp olive oil
2 tbsp butter
1 small onion, finely chopped
2 garlic cloves, finely chopped
2 cups vegetable stock
1 teaspoon ground black pepper
Salt to taste
Preparation
Preheat oven to 200C.
Place pumpkin, olive oil, salt and ground pepper in a large bowl. Toss well. Arrange the pumpkin pieces on a baking tray in a single layer.
Bake for 15-20 minutes or until tender. Set aside.
Melt butter in a large saucepan over medium heat. Saute onion until soft.
Stir in garlic. Saute for 1 minute.
Add stock and bring to the boil. Simmer, covered for about 10 minutes.
Stir in roasted pumpkin and season with salt and remaining ground black pepper. Simmer again, covered, for another 5 minutes. Remove from heat. Cool slightly.
Place in a blender and puree the pumpkin mixture. Place the puree in the saucepan, and reheat gently.
Serve hot.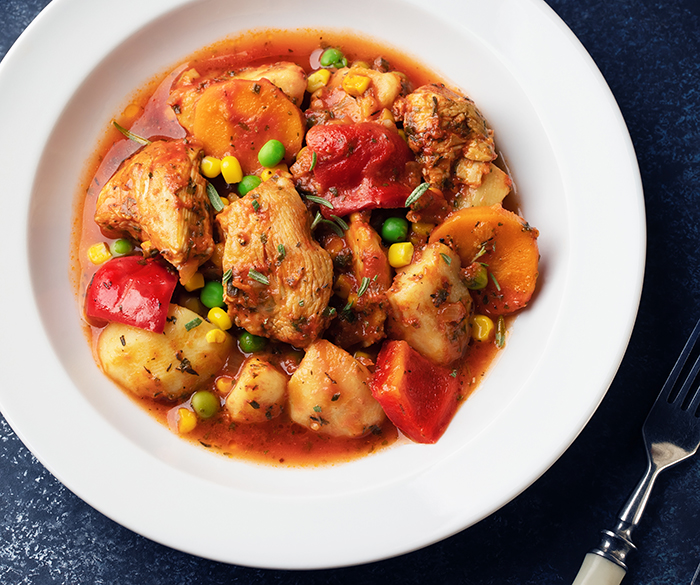 ONE POT CHICKEN STEW
Ingredients
1 kg chicken breast, cut into cubes
1 tbsp oil
3 carrots,finely chopped
1/2 cup baby potatoes, peeled
1 medium onion, finely chopped
3 garlic cloves, minced
5 cups chicken stock
2 tbsp all-purpose flour
1 dried bay leaf
1/4 cup fresh chopped parsley
Salt and freshly ground black pepper to taste
Preparation
Season the chicken cubes with salt and pepper to taste in a bowl. Keep aside.
Heat oil in a pot over high heat. Add chicken and cook, stirring occasionally, until brown on all sides. Transfer to a plate.
Add carrots and onions to the pot and cook until onions begin to soften.
Add garlic and cook for few seconds till raw smell goes.
Add 1/2 cup chicken stock while stirring.
In a small bowl, whisk together flour and 1/2 cup broth; add to pot. Stir in chicken and remaining 4 cups of chicken broth.
Add bay leaf and season with salt and pepper, to taste. Bring to a boil, reduce heat to medium-low and simmer 20 minutes.
Add potatoes and cook uncovered until potatoes are tender, about 18-20 minutes.Stir in parsley and discard bay leaf before serving.
Serve hot.
PANJIRI (INDIAN FLOUR AND DRY FRUIT MIX)
Ingredients
1.5 cup whole wheat flour
6 tbsp. ghee
15 cashews, halved
15 almonds, coarsely cut
1/4 cup melon seeds
1 cup powdered jaggery
Preparation
Heat a pan. Roast flour on low flame for 15 minutes till it turns golden brown.
Now add 6 tbsp. ghee to this and mix well with the roasted flour. Roast for about 5 more minutes.
Add cashews ,almonds and seeds to this mix and continue to stir. Cook on low flame for another 5 minutes.
Turn off the heat and let the mixture cool. When almost at room temperature, add powdered jaggery and mix well.
Serve at room temperature.