Muscat: Oman's Information Minister has praised the response of people for taking the Covid-19 vaccine in Oman. He has also urged people to not pay heed to rumours regarding the vaccine.
His Excellency Dr. Abdullah bin Nasser Al Harasi, Minister of Information, in a statement to the Oman News Agency (ONA), praised the response of citizens and residents for taking the Coronavirus vaccine. He called on everyone to not pay attention to rumours related to the safety of these vaccines.
HE Dr. Abdullah bin Nasser Al-Harassi, Minister of Information, confirms that the purpose of the visit of the members of the Supreme Committee to deal with COVID-19 is to follow up on the implementation of immunisation against COVID-19 plan.
HE indicated in a special statement to the Oman News Agency (ONA), that the committee was briefed on the great efforts made by the specialised medical teams in the Ministry of Health departments and other health sector institutions to provide vaccines to the target groups according to the established plan.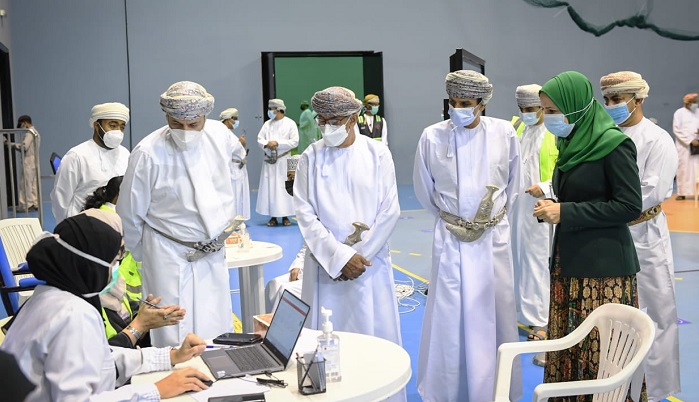 HE the minister said: "During the visit, we witnessed a precise organisation of the immunisation process in its various stages, as well as a great and commendable response from the members of the community."
His Excellency added that the Supreme Committee urges all those targeted to take the vaccine to protect themselves, their families and their community from this disease. HE explained that vaccines are the safest way to prevent Covid-19, and by every individual's commitment to follow all the controls announced by the competent authorities, such as social distancing and avoiding gatherings.
HE the minister confirmed that the Supreme Committee to deal with COVID-19 has taken many studied measures to balance between health and economic activities since the onset of the disease until now.
His Excellency said: "We are witnessing now, with close and permanent follow-up, from His Majesty Sultan Haitham Bin Tarik, a great plan to provide safe vaccines for all members of society."
His Excellency warns that there are rumours sweeping the whole world about vaccines. Scientists specializing in epidemiology and immunisations confirm that the rumours are false.
The minister added that the danger is that some people's belief in these rumours actually increases the chances of the spread of this disease.