ONE POT VEGETARIAN PASTA
Ingredients
1 tbsp olive oil
2 garlic cloves, minced
1 onion , finely chopped
1 red bell pepper, sliced
1 cup corn
1 broccoli , broken into bite size florets
2 cups of macaroni pasta
1.5 cups of vegetable broth
2 tbsp tomato paste
1 tbsp dried herbs
1/2 tsp red pepper flakes
salt and pepper to taste
1.5 cups shredded Cheddar cheese
Preparation
Heat oil in a large pot over medium. Add garlic and onion and saute until onion is translucent.
Add the bell pepper and stir fry till crisp for about 2 minutes.
Add remaining ingredients except pasta and broccoli. Stir well.
When the broth begins to boil ,add pasta and broccoli and stir again.
Place lid on and cook for 5 minutes.
Then cook uncovered for another 5 minutes, stirring frequently, until pasta is almost cooked through and most of the liquid has been absorbed by the pasta.
Add the cheese and season with salt, pepper and chilli flakes.
Garnish with fresh,finely chopped parsley and serve hot.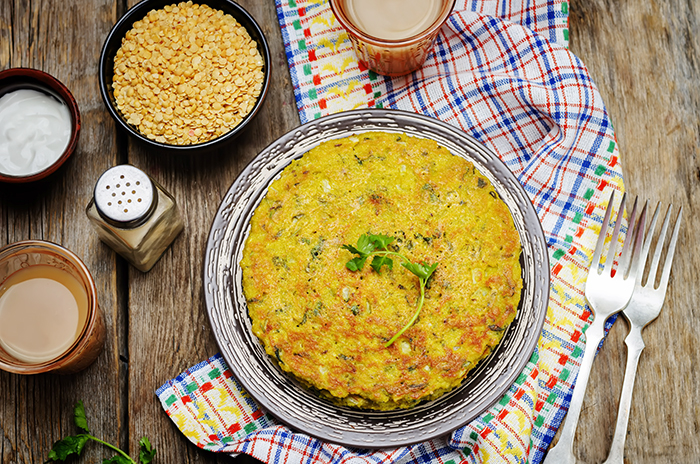 LENTIL PANCAKES
Ingredients
1 cup green moong daal/lentil
2 tsp grated ginger
1/4 cup chopped fresh coriander
1/2 tsp salt
1 cup water
Topping
2 carrots grated finely, 1cup
Salt to sprinkle
Preparation
Wash the lentil well and soak in 2 cups of water for 2 hours.
Drain the daal and grind to a paste/batter with coriander, ginger and salt in a blender.
Grease a non stick pan and on medium heat ,drop the lentil batter with the help of a spoon and immediately spead with the back of the same into a 3 inch diameter round.
Let it cook for a few seconds.
Sprinkle 2 tbsp of the carrot topping on the pancake and press.
Pour 1tsp of oil on the sides and on the top too, so that the pancake turns crispy.
When you see brownish patches, flip and turn over and cook till golden brown from both side. Serve hot.
CORN AND CHICKEN QUESADILLAS
Ingredients
8 tortillas
2 teaspoons olive oil
1/2 cup mozarella cheese
1/2 small onion, finely chopped
2 cups sweet corn
1 cup boiled and shredded chicken
1 green bell pepper, seeded and finely chopped
Salt and pepper to taste
1/2 cup fresh coriander leaves
Preparation
Heat oven to 400° F.
Brush one side of each tortilla with the oil.
Turn the tortillas over and top with the cheese, onion, corn,chicken, bell pepper, and coriander.Sprinkle salt and pepper to taste.
Sandwich with the remaining tortillas, oiled-side up.
Working in batches, if necessary, transfer the quesadillas to a foil-lined oven tray. Bake, turning once, until the cheese melts, 6 to 8 minutes.
Serve hot.
NUTELLA COOKIES
Ingredients
1 cup all-purpose flour
1 cup Nutella
1 large egg
Preparation
Heat the oven to 350°F and line a baking sheet with parchment paper.
Add the Nutella, flour, and egg to a large bowl. Mix well.
Using your hands roll about 2 tablespoons of dough into balls.
Place cookies on the baking sheet and flatten them slightly with the back of a spoon.
Bake for 10 minutes, until they are cooked around the edges.
Cool on the baking rack before serving.
Serve with tea or coffee.