BRAIN-BOOSTING SMOOTHIE
Ingredients
2 cups blueberries
1 cup pomegranate juice
1 cup ice cubes
1 tablespoon chia seeds
1 ripe banana, peeled
Preparation
Add all ingredients to a blender and pulse until combined and smooth.
Serve chilled.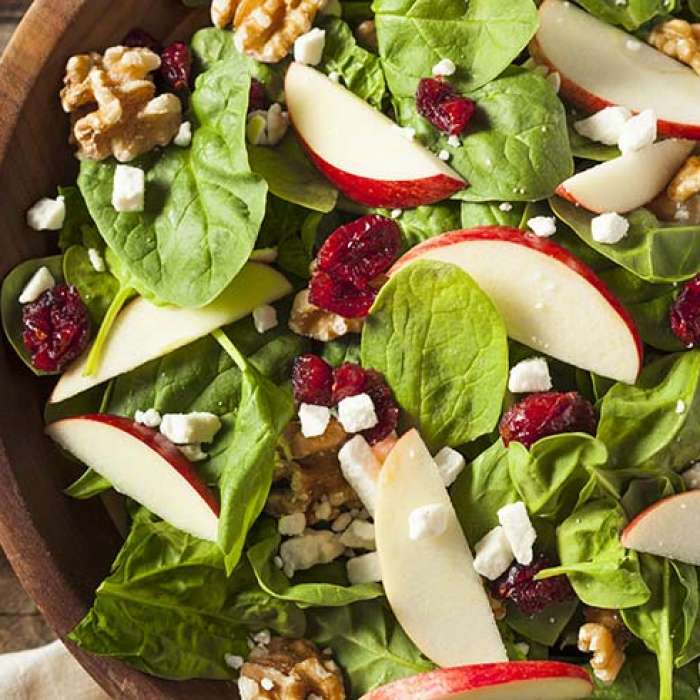 APPLE WALNUT SALAD
Ingredients
2 cups kale- torn to bits
1 green apple, thinly sliced
small onion, thinly sliced
1/2 cup toasted walnuts
1/2 cup crumbled feta cheese
Handful of fresh parsley leaves
For the dressing
2 1/2 tablespoons lemon juice
3 tablespoons olive oil
1/2 teaspoon garlic salt
fresh cracked black pepper
1 tablespoon honey
Preparation
In a mixing bowl combine 2 1/2 tablespoons of lemon juice, 3 tablespoons olive oil, garlic salt, pepper and honey.
Whisk together until well combined.
When ready to serve, top kale with sliced apple & onion in a serving platter. Toss salad with dressing & finish with toasted walnuts, feta cheese and parsley.
Serve immediately.
BROCCOLI FRITTATA
Ingredients
1 garlic clove (minced)
2 tablespoons olive oil
2 cups broccoli florets
Salt and Pepper
6 large eggs
½ cup grated parmesan cheese
Preparation
Preheat the oven to 350°F. In an ovenproof nonstick skillet, heat 1 tablespoon of the olive oil.
Add the garlic and cook till raw smell disappears. Add the broccoli and cook for 1 minute.
Cook over moderate heat until the broccoli is crisp-tender for about 2 minutes.Season with salt and pepper.
In a mixing bowl, whisk the eggs with 1/4 teaspoon each of salt and black pepper. Stir in the broccoli.
Return the skillet to the stovetop and heat the remaining 1 tablespoon of oil.
Pour in the eggs-broccoli mix and cook on low heat for about 3 minutes.
Sprinkle cheese on the frittata. Transfer the skillet to the oven and bake the frittata until the center is just set, about 12 minutes.
Serve warm or at room temperature.