CLEAR QUINOA SOUP
Ingredients
1 cup- cooked quinoa
4 cups vegetable stock
1/2 cup finely chopped carrots
1/2 cup finely chopped cabbage
1/2 cup peas
1/2 cup broccoli florets
1/2 tsp dried mixed herbs
Salt & pepper - to taste
Oil
Preparation
In a wide saucepan, heat 1/2 tsp of oil and saute the vegetables on high heat for about 3-4 minutes.
Reduce the heat to medium and add the vegetable stock and cooked quinoa.
Bring to a roaring boil and cook for 15 minutes. Season with salt ,pepper and dried mixed herbs.
Serve hot.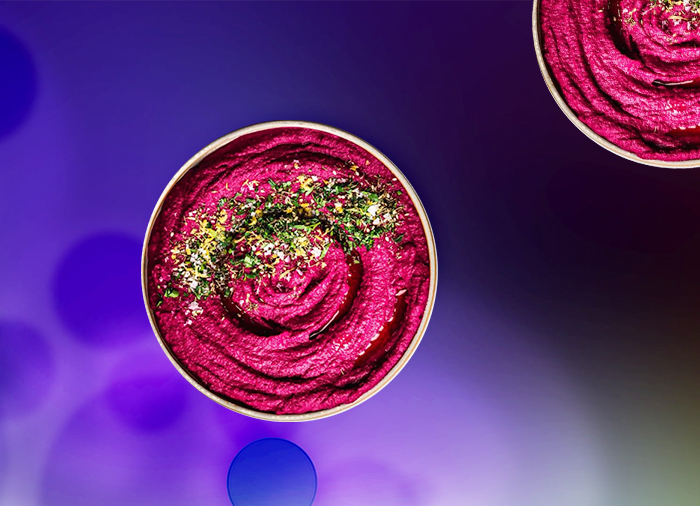 ROASTED BEETROOT HUMMUS
Ingredients
2 cups of chickpeas, boiled
1 beetroot, peeled
4-5 garlic cloves
1/4 cup of olive oil, plus extra for topping
1/2 cup tahini paste
2 tbsp of lemon juice
Salt to taste
Preparation
Roast the beetroot on the stove for 10 minutes. Let it cool.
Cut it into 2 halves once cooled.
In a blender, add chickpeas and garlic, and pulse till smooth. You can add a little water, if you find the mixture a little dry.
Add the roasted beetroot halves, tahini paste and salt, and blend again until smooth.Transfer to a bowl, and add the lemon juice. Mix well.
Serve topped with olive oil.
MILLET BURRITO BOWL
Ingredients
1 and 1/2 cups little millet
4 tbsp extra-virgin olive oil
2 tsp cumin powder
1/4 cup fresh lime juice
3/4 tsp coriander powder
1 can kidney beans, drained and rinsed
3 chicken breasts- boiled and shredded
4 spring onion- white and greens- finely chopped
4 torn arugula
3/4 cup crumbled feta cheese
Salt and pepper to taste
Preparation
Bring a large pot of salted water to a boil over high heat. Add the millet and cook until the millet is tender, about 20 minutes.
Drain and rinse.
Transfer the millet to a large bowl and toss with 1 tablespoon of the olive oil.
In another small bowl, combine the cumin powder, lime juice, coriander powder, 1 teaspoon salt, and pepper to taste.
Whisk in the remaining 3 tablespoons olive oil. Mix well to combine. This is the dressing.
Add the kidney beans, boiled chicken shreds , spring onions, and arugula to the bowl with the millet.
Drizzle in the dressing and toss well.Top with feta cheese and serve with salsa and sour cream.
DATE OATS BALLS
Ingredients
1 and 1/4 cup dates (seeds removed and blend to paste)
6 tbsp of oats ( not cooked)
Fine desiccated coconut powder for coating
Preparation
Blend the oats to ensure that they have a fine texture.
Mix the date paste and the oats in a bowl until an even consistency is achieved.
Form bite sized balls.
Roll balls in desiccated coconut powder to coat and refrigerate for 1 hour before serving.