MANGO SALSA
Ingredients
2 mangoes, ripe
1 medium red bell pepper, chopped
½ cup chopped red onion
¼ cup coriander leaves, finely chopped
1 jalapeño,seeds removed and finely chopped
1 large lime, juiced
Salt to taste
Preparation
In a serving bowl, combine the mango, bell pepper, onion, coriander leaves and jalapeño.
Drizzle with the juice of one lime.
Season with salt and mix well. Let this rest for 15 minutes before serving.
Serve with nachos.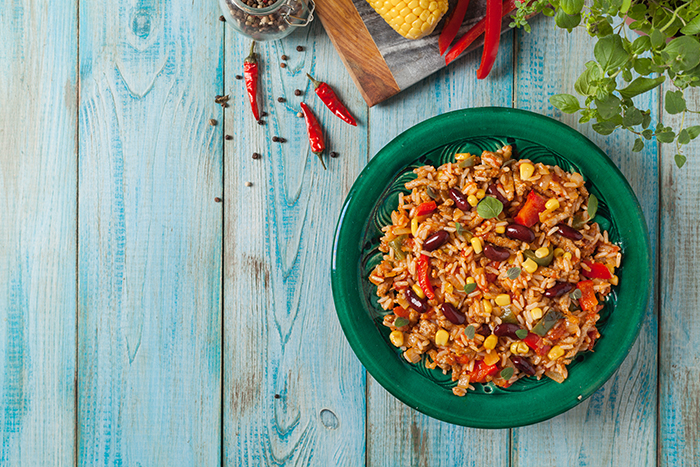 MEXICAN RICE
Ingredients
2 medium tomatoes
1 onion peeled and quartered
1/3 cup vegetable oil
2 cups long-grain white rice
4 cloves garlic minced
1 to 2 thinly cut red and green bell peppers
2 cups vegetable broth
1 tablespoon tomato paste
Salt and freshly ground black pepper
½ cup fresh coriander
Lime or lemon wedges for serving
Preparation
Preheat oven to 350°F.
In a food processor or blender, puree the tomatoes and onions until smooth.
Heat the oil in a large ovenproof saucepan. Add the rice and sauté, stirring frequently, until light golden in colour, about 10 to 15 minutes.
Add garlic and bell pepper and stir until fragrant, about 15 seconds. Stir in tomato onion mixture, broth, tomato paste, and 1 ½ tsp. salt. Bring to a boil.
Switch off the flame. Cover the saucepan and bake in the oven until the rice is tender and the liquid is absorbed, about 30 minutes.
Fluff rice with a fork. Garnish with fresh coriander and season to taste with salt and pepper. Serve with lime or lemon wedges.
CHURROS
Ingredients
75g butter
2 tsp icing sugar
1/2 tsp salt
1 cup flour
4 eggs
Oil for frying
Cinnamon sugar
1 cup caster sugar
2 tsp ground cinnamon
1/2 tsp salt
Preparation
To make the batter, place the milk, butter, Caster Sugar and salt in a medium saucepan over high heat. Bring to the boil, stirring constantly.
Reduce heat, stir until the butter is fully melted.
Add the flour and beat until well combined. Remove from heat and, using an electric mixer, beat in the eggs, one at a time.
Cool to room temperature.
Spoon the mixture into a piping bag (or a zip-lock plastic bag) fitted with a star piping tip.
Heat oil to 180°C in a deep fryer.
Pipe the mixture into little sausages about 6 - 8 cm long, cut off the batter sausages with scissors, straight into the oil.
Cook 4 - 5 at a time until golden brown. Drain on a paper towel the toss in cinnamon sugar. Serve warm.