Muscat: To make people aware of the benefits of reusable bags and the harm single use plastic bags do to nature, Oman's Environment Authority held awareness campaigns in two governorates.
In the governorates of Musandam and North Al Batinah, the government body distributed reusable bags to customers in department stores, shops, and pedestrians on the street.
"As part of the environment-friendly and multi-use bags distribution campaign carried out in the Governorate of Musandam, the community was educated about the decision to ban single-consumption plastic shopping bags and the dangers of plastic bags on the environment with an explanation of safe and environmentally friendly alternatives," the Environment Authority said in a statement.
While in Oman's northern exclave, members of the EA also planted trees at the Assad Park in Dibba, using saplings donated by Ali bin Saeed Al Shehhi, the owner of the Planet Dibba Nursery.
Regarding its efforts in North Batinah, the organisation said these were also "a part of the campaign to distribute environmentally friendly and multi-use bags to market and shop goers, in order to encourage the consumer to use safe and environmentally friendly alternatives.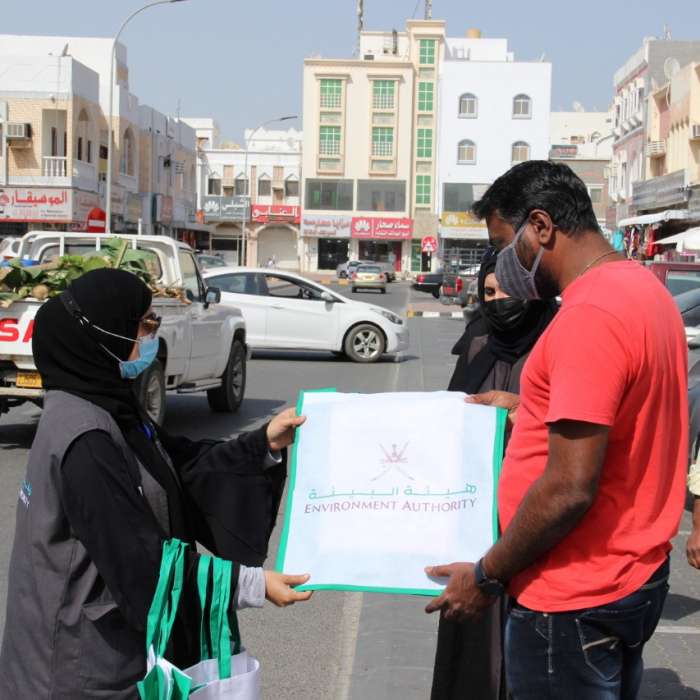 Adding to this, City Centre Sohar, which operates out of the capital of the governorate, said, "We were happy to host the Environment Authority. They distributed reusable shopping bags to our customers to promote sustainable development in Oman. This supports our efforts to be one of the most sustainable malls brands in the region."
The efforts in these two governorates come just days after similar initiatives in Muscat, South Al Batinah, and Ad Dakhiliyah, where as part of the body's awareness campaigns, multi-use bags and information on the harmful effects of plastics were provided to people in malls in these areas. Single-use plastic bags have been banned in Oman since January 1, 2021, in keeping with Royal Decree No. 23/2020.