MOCHA BANANA BREAKFAST SMOOTHIE
Ingredients
1 cup oats
1 and half cups milk
1 banana, cut into chunks
1/4 cup yoghurt
1-1/2 tablespoons cocoa powder
1 tablespoon coffee powder
1 cup ice
Preparation
In a small bowl or jar, stir together oats and 1 cup milk. Cover and refrigerate overnight.
In a blender, combine oat mixture, remaining 1/2 cup milk, banana, yogurt, cocoa powder and coffee powder and blend until smooth.
Add ice and blend until smooth. Serve cold.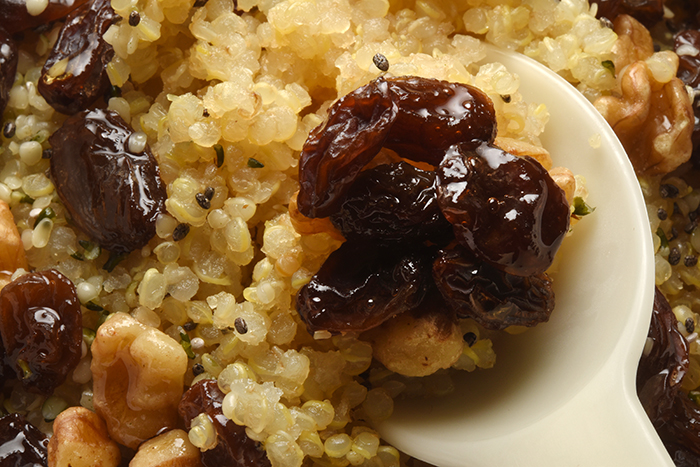 BREAKFAST QUINOA BOWLS
Ingredients
1 cup cooked quinoa
1 cup milk
1 tbsp raisins
1 tsp cinnamon powder
1 tsp honey
Preparation
In a small saucepan over medium heat, bring quinoa, milk, raisins, cinnamon and honey to boil; reduce heat and simmer, stirring often, until about half of the milk is absorbed, about 5 minutes. Switch off the flame.
Serve hot.
CAULIFLOWER LATKES
Ingredients
1 large cauliflower
6 to 7 tablespoons vegetable oil
1 medium onion, finely chopped
6 tablespoons bread crumbs
2 large eggs
Salt and freshly ground pepper to taste
Preparation
Cook cauliflower in an uncovered pot of boiling salted water over high heat for about 12 minutes or until very tender.
Meanwhile, heat 2 tablespoons of oil in a large heavy skillet, add onion and cook over medium-low heat until soft and golden brown, about ten minutes.
Drain cauliflower well and mash with a fork or blend in a food processor.Add bread crumbs, eggs, fried onion, and salt and pepper.
Wipe your skillet down, add 4 tablespoons oil until hot.
Take 1 heaping tablespoonful of cauliflower mixture in your hand, and roll it into a ball.
Flatten it to a cake about 1/2-inch thick. Place cauliflower patty in pan.
Make 4 or 5 more cakes and add them. Fry over medium heat about 3 minutes on each side or until brown.
Turn carefully with a wide pancake turner. Drain on a paper towel. Serve hot.
VEGETABLE FRITTATA MUFFINS
Ingredients
1 tablespoon olive oil
1 cup red bell pepper, finely chopped
1 cup green bell pepper, finely chopped
1 cup onion, finely chopped
1 cup mushrooms, finely chopped
2 cloves garlic minced
1/2 cup fresh coriander leaves, finely chopped
salt and pepper to taste
4 eggs
Preparation
Preheat the oven to 350 degrees F.
Grease a standard non stick( 8 )muffin pan with cooking spray and set aside.
Heat a large non stick skillet over medium heat.
Once hot, add in oil,and saute garlic till aromatic. Add in red bell pepper, green bell pepper, and onion.
Saute 5-7 minutes.Add in mushrooms and cook for an additional 2 minutes.
Season with salt and pepper and remove from heat.
Crack eggs into a bowl and whisk together.
Stir in cooked veggies.
Pour the egg/veggie mixture evenly into the prepared muffin pan.
Bake for 15-20 minutes.
Cool slightly and serve immediately!