Serve a tray of delicious truffles for dessert and woo your guests this holiday.
OREO TRUFFLES
Ingredients
24 Oreo cookies
3/4 cup cream cheese
1 and 3/ 4 cup milk/dark chocolate
Preparation
Place Oreo cookies in a food processor. Crush into fine crumbs.
Add cream cheese and mix well for smooth consistency.
Refrigerate for 45 minutes.
Meanwhile melt the chocolate using a double broiler method.
Shape oreo and cream cheese mix into 1-inch balls and freeze for 30 minutes.
Dip each ball in the melted chocolate, transfer into a tray lined with parchment paper. Sprinkle some chocolate shavings.
Leave to set for about 2 hours before serving. Serve cold.
CARROT PEANUT BUTTER TRUFFLES
Ingredients
3 medium sized raw carrots-grated
1/2 cup peanut butter
1/2 cup desiccated coconut
Honey to taste
Preparation
In a bowl, mix all the ingredients till they incorporate well.Grease your hands and shape into 1 inch balls.
Garnish with pistachio and dust with some coconut powder.
Serve at room temperature.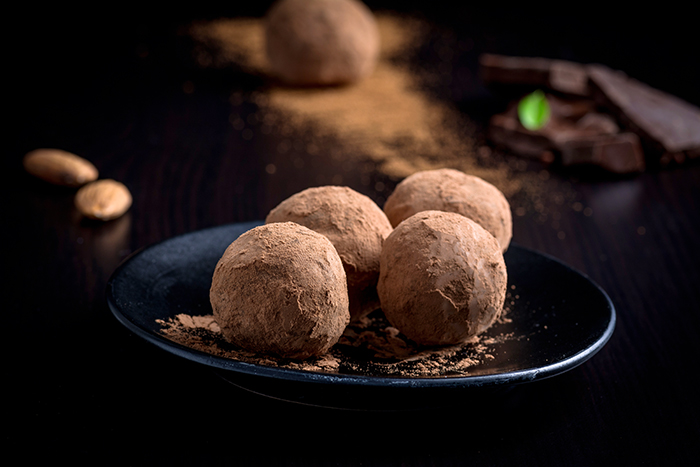 CRUNCHY NUTELLA TRUFFLES
Ingredients
1/2 cup heavy cream
2/3 cup Nutella spread
2 tablespoons butter, unsalted
3/4 cup crushed cornflakes
Preparation
Place heavy cream and butter in a small saucepan. Heat over low-medium heat, melt the butter and bring to a simmer.
Add the Nutella and stir again until incorporated and smooth. Cover with plastic wrap and refrigerate for 2 hours.
Use a tablespoon or ice cream scoop to scoop and roll with greased hands to form a ball.
Roll in crushed cornflakes.
Keep in the fridge until ready to serve.