Muscat: Oman Airports seized the glorious occasion of the 50th Blessed Renaissance Day to adorn Muscat International Airport, Salalah Airport and its other regional airports with lights bearing the soulful, prideful, honourable, loyal and lordly hues of the Omani flag. This gesture was made to honour this most precious and auspicious national holiday dedicated to the tremendous and paradigm-shifting renaissance brought forth by the late His Majesty Sultan Qaboos Bin Said (may his soul rest in peace) who established a modern state that grew to become a global symbol of development and progress.
This ever-glorious undertaking continues under His Majesty, Sultan Haitham bin Tarik Al Said, with the full support and wisdom of the Omani people.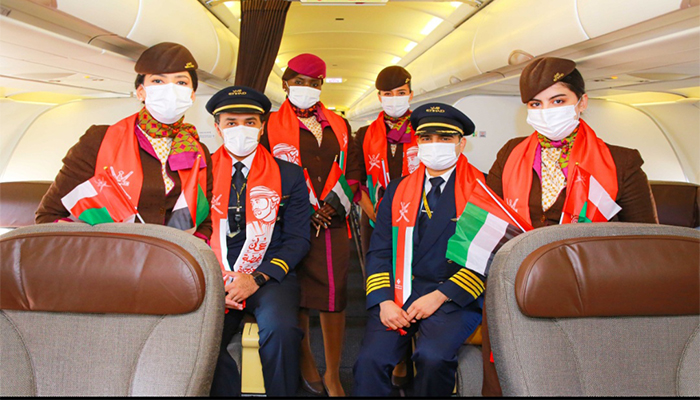 Oman Airports made sure to interact with its passengers in Muscat International Airport, Salalah Airport and its other regional airports, while maintaining and imposing the highest precautionary health measures, considering that these airports represent one of the icons of this complete renaissance, and embody a gateway for beauty and opportunity within this blessed land.
The duty-free markets in Muscat International Airport and Salalah Airport presented passengers with special discounts to celebrate the occasion, and airport employees decorated their desks and offices with the colours of the Omani flag and with colourful balloons to express their joy during this monumental national celebration. Furthermore, scarves were distributed among employees during a massive national gathering.
Sheikh Aimen bin Ahmed Al Hosni, Chief Executive Officer of Oman Airports, took this most prodigious of occasions to state that "the 18th of November marks an exceptionally important Omani celebration, hailed by all of the Sultanate's people, from its northern to its southern borders, as a call to renew their pledge of loyalty and gratitude to their country. We want to extend our warmest and most sincere congratulations and blessings to our sovereign ruler, His Majesty, Sultan Haitham bin Tarik Al Said, as we strive to share our profound national gladness with all of our passengers, whether they are arriving, departing, or in transit."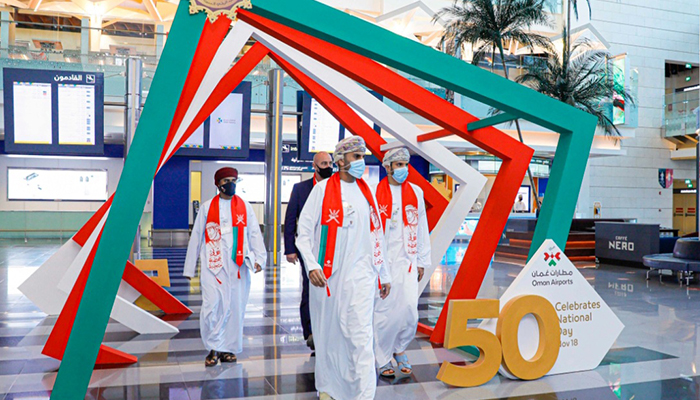 He completed, "We will take this chance to renew our vow to work incessantly toward making these airports a strategic gateway for beauty and opportunity within the framework of Oman 2040, our new vision for the future."
Sheikh Aimen followed by stating that "Oman Airport's Muscat International Airport, Salalah Airport and Duqm Airport, are all tremendous edifices that stand as a testament to the great Omani Renaissance. This very same renaissance employed millions to bring up imposing structures that match some of the most powerful countries in the world, transforming Oman into a strategic international reference point, with a flag waving to the gentle caress of peace and security."
Sheikh Aimen concluded his speech by explaining how "Oman Airports wanted to offer its employees and passengers an unforgettable experience during this dearest of celebrations, forever immortalizing the Sultanate's airports as a gateway for beauty and opportunity in their minds."
National songs and hymns echoed across all of the Sultanate's airports as the general ambience of joy and celebration overtook the passengers and employees who wore a scarf bearing the Omani flag and displayed photos of His Majesty Sultan Haitham Bin Tarik.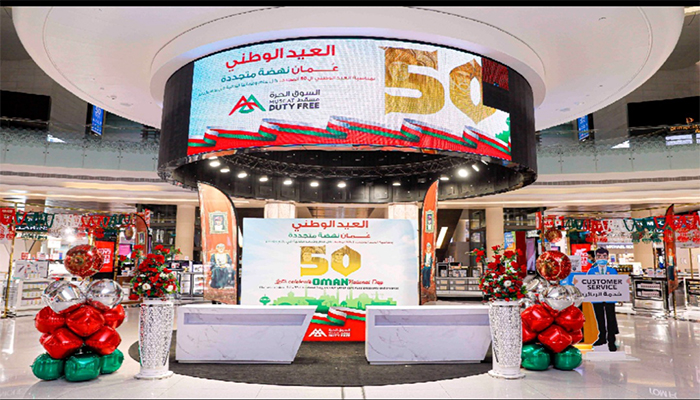 The airports of the GCC capitals also interacted with this event, as Omani passengers were greeted with flowers, souvenirs and sweets on their arrival to these airports, in a display of pure joy for the Omani people's celebration of this monumental occasion that is highly valued by all the countries belonging to the Gulf Cooperation Council.
It is worth noting that the airport sector in the Sultanate is one of the main promoters of economic growth and of tourism for its strategic functions, which explains why it received such an immense support from the government in past years, and why it has been included as a key logistical governmental investment in the Oman Vision 2040.