Winter is the best time to have soups that are not just nutritious but healthy too.

TOMATO EGG DROP SOUP
Ingredients
1 cup tomatoes
7 cups water
2 tbsp of cornflour mixed in half cup water
3 tbsp oil
1 tbsp soya sauce
1 tbsp sugar
2 tbsp finely chopped onions
1 tbsp grated ginger
1 tsp pepper powder
2 eggs
2 seasoning cubes (vegetable)
Salt to taste
Spring onion greens for garnish
Preparation
Blanch the tomatoes in the 7 cups of water.( do not discard the water)
When done,blend on cooling and sieve.
Heat oil, saute the onions till they turn pink.
Add the ginger, tomato pulp along with reserved water, soya sauce, seasoning cubes and cook on high heat for 3 -4 minutes.
Add the cornflour mix to the soup and continue cooking till soup thickens.The tomato pulp has enough water and if required, add more water.
Season with sugar, salt and pepper.Cook for another 7 minutes.
Beat the eggs in a bowl and pour in a thin stream into the soup.Stir gently and switch off the flame.
Serve hot, topped with a dollop of butter and spring onion greens.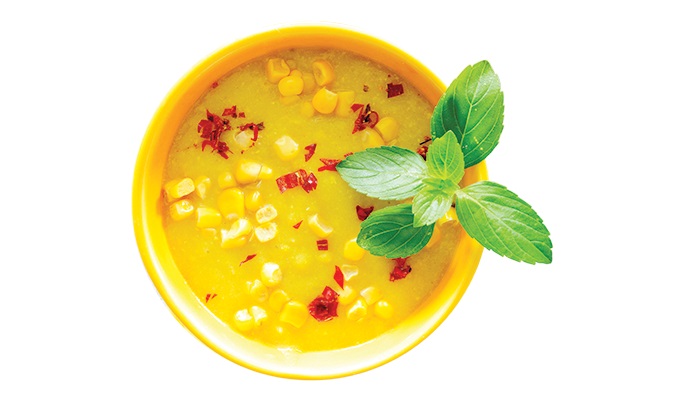 MINTY CORN SOUP
Ingredients
8 cups vegetable broth
2 cups coconut milk
1/2 cup mint paste
2 tbsp oil
1 tbsp lime juice
3 cloves garlic -minced
1 tsp cumin powder
1 cup steamed/boiled corn
2 tsp all purpose flour
Salt to taste
Preparation
Heat oil and add the minced garlic and gently saute for 1 -2 minutes.Add in the all purpose flour and saute till its changes colour.
Add in the steamed corn and the mint paste. Mix well till the flavours incorporate.
Add in the vegetable broth and cook for 5 to 7 minutes. Season with salt and cumin powder.
Add the coconut milk and lime juice and continue cooking till the soup thickens.
Once the desired texture is achieved, switch off the flame.
Serve hot.
CHEESY CHICKEN SOUP
Ingredients
6 cups of chicken stock
3 tbsp of all purpose flour
3 tbsp of butter
1 cup milk
1/2 cup of boiled and shredded chicken
2 tbsp finely chopped carrots
2 tbsp finely chopped onions
1/2 cup grated cheddar cheese
2 tbsp finely chopped parsley leaves
2 tbsp finely chopped celery
Salt and pepper to taste
Preparation
Melt butter on low heat. Add the flour and saute till it changes colour. Add in the onions and saute till pink.
Add the chicken, carrots and celery and mix well.
Cook for about 3 to 4 minutes and season with salt and pepper.
Add the milk and cook for another 2 minutes. Now add in the chicken stock and bring this mix to a roaring boil.
Add the grated cheese and cook while stirring continously for another 5 minutes.
Turn of the flame and serve hot garnished with parsley leaves.