SPINACH KHICHDI
Ingredients
1/2 cup rice
1/2 cup yellow moong lentils
1 cup spinach leaves ( blanched and pureed)
1 tablespoon garlic, finely chopped
1 onion , finely chopped
1 inch cinnamon stick
1/2 teaspoon cumin seeds
2 green chillies , slit
1/4 teaspoon turmeric powder
1 pinch asafoetida
1/2 tomato, finely chopped
Ghee, or oil as required
Salt to taste
Preparation
In a pressure cooker add rice,lentils/dal, turmeric, asafoetida, little oil and 2 -1/2 cups of water and pressure cook.
In another pot, heat some oil/ghee and add cinnamon ,cumin seeds,green chillies, garlic and chopped onions.
Saute it until the onions have started to change colour.Now add tomatoes, and cook till they soften.
Once it is done, add the pureed spinach and mix well.
On low flame,add the dal and rice mixture into the pot and mix until well combined with the spinach mixture, season with salt.
Add water if necessary, shut the flame and serve hot with a dollop of ghee.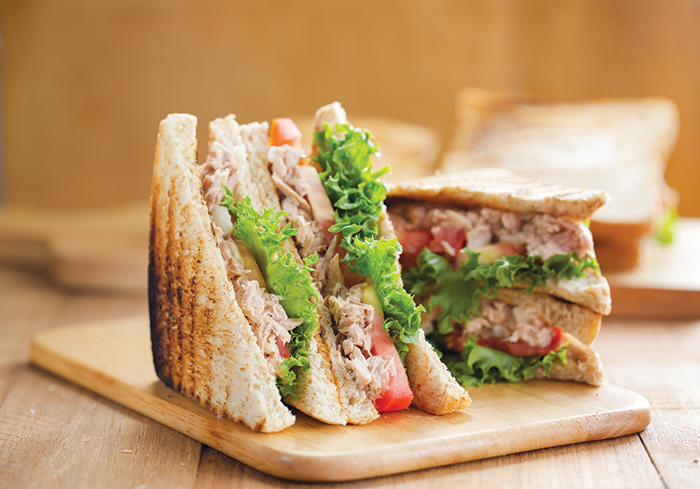 TUNA PESTO SANDWICH
Ingredients
2 cups shredded tuna (drained )
1/4 cup mayonnaise
Salt and freshly ground black pepper, to taste
2 brown bread slices, toasted, for serving
1/4 cup lettuce leaves, for serving
2 tomatoes, thinly sliced, for serving
1 cup mozzarella, sliced
FOR THE BASIL PESTO
1 cup fresh basil leaves
3 cloves garlic, peeled
3 tablespoons pine nuts
1/3 cup grated Parmesan
Kosher salt and freshly ground black pepper, to taste
1/3 cup olive oil
Preparation
To make the pesto, combine basil, garlic, pine nuts and Parmesan in the bowl of a food processor; season with salt and pepper, to taste.
With the motor running, add olive oil in a slow stream until emulsified; set aside.
In a large bowl, combine tuna, 1/2 cup pesto, mayonnaise, salt and pepper, to taste.
Serve sandwiches on bread with letttuce, tomatoes, mozzarella and tuna pesto mixture.