Gulf Baader Capital Markets partners with ASK Group
Business
Wednesday 08/January/2020 16:39 PM
By: Times News Service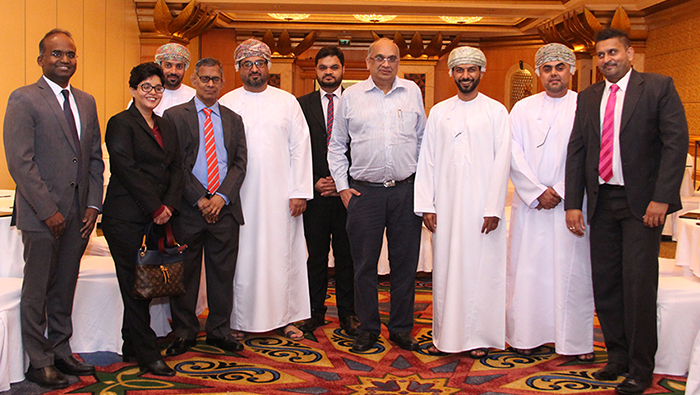 Muscat: Gulf Baader Capital Markets (GBCM) entered a strategic alliance with ASK Group, one of the leading asset managers in India to be a part of India's growth story.
GBCM has been seeking opportunities across the globe in constant pursuit of providing best in class opportunities for its extensive list of clienteles. In this initiative, GBCM has recently hosted an event introducing its partner ASK Group, India to the Omani investors. The event was attended by key members from sovereign institutions, pension funds, family offices, private sector entities and high net worth Individuals in Oman. Bharat Shah, Executive Director, ASK Group gave an insightful talk about the emerging opportunities in Indian equities to the audience.
GBCM has been looking at growing its business across various asset classes and geographies over the years and looked at opportunities in developed and emerging market equities, bonds and Sharia oriented offerings. In this initiative, GBCM found emerging markets which include India as one of the best growth opportunities provided to Omani investors. Post extensive research and due diligence, GBCM has decided to partner with India's leading asset managers, ASK Group towards entry in the growing Indian Equities.
GBCM's Acting CEO, Ali Mustafa Abdullah Al Lawati quoted, "Our approach has been to always look out for the best opportunities for clients and India remain as one of the key focus areas towards non-oil investment diversification. We are happy to host these interactive seminars and events which would bring in global expertise and investing ideas to Omani investors."
Shah briefed during the event that India is at a threshold of one of the most exciting phases of its long-term upward growth trajectory, riding on a series of vital economic reforms. India with its favourable demography, rising household income and consumption theme is set to become a $5 trillion economy by 2025. Shah highlighted exciting data with regards to the emerging opportunities in Indian equities. The insightful discussion was followed by an interactive question and answers session.
The ASK Group is a leading player in the Indian asset & wealth management business. An Indian focused investment manager in operation since 1983, the ASK Group covers areas such as Indian public equities, real estate, private equity and debt. ASK group manages assets of over $7.4 billion as of October 31, 2019.
GBCM is a licensed entity by Capital Market Authority, Oman and provides the entire gamut of investment banking activities which includes local, regional and international brokerage, asset management, corporate finance advisory, investment research activities and marketing of non-Omani securities.