The three Romanov treasures in Oman
T-Mag
Thursday 30/May/2019 17:48 PM
By: Times News Service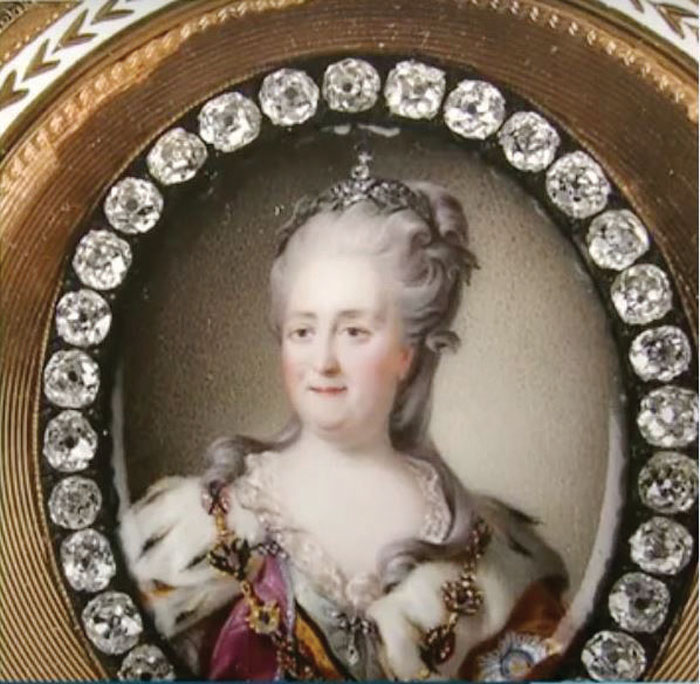 Right here in Muscat, lying silently in an exhibition hall of the National Museum, three treasures from the legendary Hermitage greet visitors of all ages.

Each artefact dates back to the time of the Romanovs, a dynasty that ruled Russia from 1612-1918.

Theirs was an epoch of beauty and destruction, triumph and tragedy, all brought to bear in eras immortalised by countless writers and artists. Leo Tolstoy's 'War and Peace', the stirring sounds of Tchaikovsky, and legends like Anastasia. No wonder they remain one of the most recognisable royal families in history.

But beyond the world events they are commonly remembered by, perhaps the greatest example of their legacy lies in the treasures they left behind. And it is within the Hermitage, itself a moment of the grandeur and ambitions of those who built it, where sensational collection of that legacy can be found.

Built in the 18th century, the Hermitage has become a byword for culture, its collection including over a million items housed in its palatial galleries and rooms, which were once used by the Tsars themselves.

But among its most dazzling showpieces are those within its prestigious jewellery collection. As part of Hermitage Day in Oman, three of the Hermitage's most prized possessions were loaned to the National Museum in Muscat to offer a glimpse into its collection and the global stature of the institution that is now their home.

To walk into the serene hall is to take a step into St Petersburg. Thanks to the displays, there is a slice of imperial Russia waiting in Oman, calling visitors to its gems, jewels, and intricate designs. Each of the three items has its stories to tell, bringing with them a flavour of Eastern Europe you do not often see in the Middle East. The first perfectly encapsulates the legacy of pomp, splendour and extravagance characterised by an empress visitors soon meet face to face: Catherine the Great.

The Imperial Snuffbox
It may be small, but with every inch of this spectacular snuffbox decorated opulently, it packs a visual punch. Inlaid with diamonds, rubies and other gems, the stones form a wreath around an iconic image of Catherine, whose confident gaze depicts the ruler in her prime.

Here Catherine is shown at the height of her power: proud, regal, and majestic. Exactly as she would have been in 1780, the year it was painted.

By that time she was secure on her throne, having built on Tsar Peter's empire building project, completed a number of reforms, and expanded her influence in nearly every direction. A number of rivals and pretenders had already been put down by then. With the birth of her grandson, the future Tsar Alexander, the succession was secure. She presided over an empire that was the envy of Europe, dazzling, artistic, and influential. Life was good.

Olga Kostiuk, head of the Hermitage's Department of Western Applied Art, said about the object, "This elegant snuffbox never fails to catch the eye of visitors who come to see the Hermitage jewellery collection.

"The border and the bottom of the snuffbox are decorated with transparent enamel painted in imitation dendrite, a gem-like mineral highly fashionable in the last quarter of the 18th century."

According to Kostuik, the man behind this exceptional work of art was a Frenchman named Jean-Francois Xavier Boudde.
"Boudde was well-versed in the works of other European jewellers, and his snuffboxes strongly resemble the items produced by his French contemporaries," Kostuik adds.

While it is easy to get swept away in snuffboxes charm, a future filled with such pomp must have been unimaginable to Catherine herself when she first came to Russia as a teenager, the bride of her second cousin and future Tsar.

Born Sophie of Anhalt-Zerbest in 1729, she was the daughter of a minor German prince. In 1744, she as chosen the reigning Tsar Elizabeth to marry her nephew. As was customary at the time, she adopted the Orthodox faith, changed her name to Catherine, easily mastering the language and customs of her adopted country.

In a power struggle worthy of the Game of Thrones, she would overthrow her husband less than a year into his reign.

The snuffbox represents the ability of St Petersburg to attract top talent. That and much more can be gleaned from this one masterpiece in Muscat: created by foreign workers, using some of the most precious material in the world, in one of its great cities. Its effect on viewers is as enchanting now as it must have been in Catherine's imperial heyday. But that is far from the only masterpiece vying for the attention of visitors here at the National Museum.

**media[1032562]**

A Vase Inspired By Al Andalus

One would be forgiven for thinking this artefact was Islamic in origin – after all, the words 'la illaha illalah' appear on it, as does a shield with Arabic script, its exterior proudly resembling the artistic style of Al Andalus. But look a little closer and its imperial eagle gives its origin away: instead of being a relic of Moorish Spain, the vase was created in Imperial Russia in 1838. So what is its Arab-Islamic connection?

Ekaterina Khmelnitskaya, a curator at the museum explains, "The wealth and opulence of the east, together with the splendid works of Moresque art in the Al Hambra Palace of Granada and the Alcazar of Seville, made a deep impression on 19th Ccentury Europe. In St Petersburg, the romantic Moresque style wa sparticualrly popular in the design of smoking rooms, bath rooms and boudoirs."

She adds, "Gilded shields on either side bear a diagonal epigraphic motif imitating Arabic naksh-style script. Escutcheons in pink medallions imitate the coat of arms of the Nasrids, the last Muslim dynasty of Spain."

The vase is a reminder of the often forgotten cultural connections between the Islamic world and Eastern Europe. And just like its two fellow artefacts on display, it offers but snapshot of what awaits visitors in St Petersburg itself.

This year's Hermitage Day at the National Museum could not have been more timely: with the HBO drama 'Catherine the Great' starring Helen Mirren in the works, the Romanovs and their history look set to once again capture the world's attention. And if museumgoers in Oman are anything to go by: St Petersburg should definitely begin preparing for an influx of wide-eyed visitors inspired by the glitz, glamour and history that these three artefacts represent.

**media[1032564]**

The Count's Sword

It is the encrusted stones on its hilt that first catch the eye, followed closely by an elegant medallion depicting the monogram of Catherine made out in diamonds and rubies, its shining black leather scabbard.

"The sabre's maker is Joachim Hasselgren, a native of Sweden, who joined the foreign jewelers guild in St Petersburg in 1764 and rose to prominence through the exceptional artistry and variety of his creations," Kostiuk writes.

It is hard to disagree. The sword is adorned with gems and enamel, its many colours having an almost dazzling effect as the lights strike it. One would expect nothing less from an imperial gift.

The sword, after all, was given by Catherine to Count Alexei Orlov-Chesmensky, a man famous for his role during the early part of her reign. He played a key part in securing Catherine's crown. Orlov-Chesmensky would personally take Catherine to be crowned, arrest her husband and was even one of the men who played a part in his end, a fact that would come back to haunt him in old-age.

Long before that, he would prove to be one of Catherine's most competent officials with a knack for getting rid of her enemies, a skill recounted to audiences today in the hit play 'Count Orlov'.

However, his actions to secure Catherine's throne would eventually catch up with him: after the empress' death in 1796, her son Paul took over. Growing up obsessed with his father's murder he quickly set about looking for revenge. The new Tsar Paul had his father disinterred and reburied alongside his mother, forcing Orlov-Chesmensky to carry his crown before having him exiled.
The count's sword would have a much kinder fate, according to a legend recounted by Kostiuk. It would pass into the hands of Count Mikhail Miloradovich, a soldier who famously served in the Napoleonic Wars. With time, it would make its way into the possession of Crown Prince Nicholas Alexandrovich. In 1886, according to Kostiuk, it would join the Hermitage's swelling collection in the reign Nicholas's brother, Alexander III. While no doubt stunning, a vase just a few feet away from the count's sword is just as fascinating.