Muscat: World-renowned car brand BMW is "actively working to bring electric mobility to Oman because it is very strongly supported and desired by the government," announced Jean-Philippe Parain, Senior Vice President Sales Region Asia-Pacific, Eastern Europe, Middle East East and Africa - BMW Group.
Parain was speaking at a media interaction in Muscat on a recent visit to celebrate 20 years of partnership with BMW's official importer Al Jenaibi International Automobiles. He was joined by Rachid Zamani, Managing Director, Al Jenaibi International Automobiles and Dr. Hamid Haqparwar, Managing Director, BMW Group Middle East at the roundtable that focused on BMW's vision for the Sultanate of Oman.
Parain added "The GCC is still in a very early stage in the adoption of electric vehicles. Globally, BMW offers electric cars in all segments and has sold 200,000 electric cars last year, witnessing a double growth. BMW is aiming to sell 400,000 electric cars in 2023, roughly 15% of worldwide sales."
Electric cars in Oman
Emphasizing BMW's endeavor to contribute to Oman's goal of achieving zero neutrality in the transportation sector, Parain revealed that the company is working on the homologation of electric cars in Oman at an advanced level and added "We are really working on it to have it roughly by year end."
He also disclosed that the company is investing in developing hydrogen technology.
Applauding the Omani Government's recent decision to completely exempt electric cars from customs tax and registration fees as well as VAT for the electric cars and their spare parts from July 1 this year, Zamani said the company was hopeful for "incentive on electric cars because they are good for the environment and for the future generations." Dr. Haqparwar pointed towards the importance of creating an ecosystem for smooth transition to electronic vehicles.
"In order to have a quick adoption, you need three things. First, infrastructure like charging stations and destination charging stations. Second, we need the government's support as demonstrated by Oman's vision to have 80% net zero until 2035. Third, manufacturers like BMW to offer electric vehicles. While we have the supply of the cars and the products, the government has the vision. With investment in infrastructure, Oman can really be at the forefront of the nurture and adoption of electric vehicles," he said.
Charging points at home
Explaining how the company assists the customer's transition to electric vehicles Dr. Haqparwar mentioned, "Together with Al Jenaibi, BMW would establish a wallbox at the customer's home on purchase of the i7, iX1 or iX models. This will ease the customer's anxiety on the charging front."
He added, "We have to talk with the government and other players. We call them CPos -- Charging Providers to identify charging places where even we as a manufacturer are willing to extend support."
Pathbreaking products
Reminiscing how he has seen BMW products evolve in his 25 year-long career, Parain said "On the technology side, we have been quite the pioneers. Our futuristic products like Jeeps, iDrive, were we criticized at the beginning and then became the norm."
Parain further added, "BMW is a great innovation machine. Our engineers are constantly working to anticipate the trends or creating them."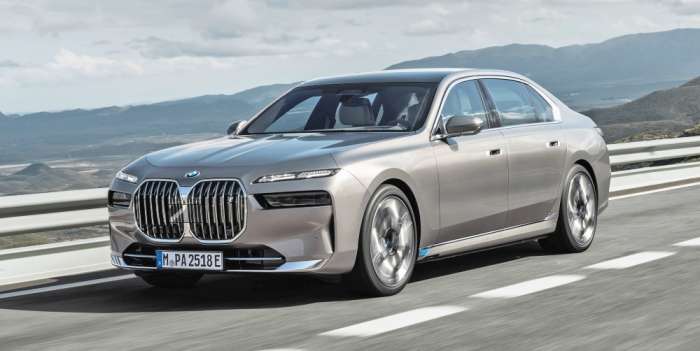 Interestingly, BMW's latest offering in Oman - the 7 Series was launched as the 'Face of Forwardism' in January 2023.
Emphasizing that the car was an attempt to set up new benchmarks, Parain pointed out that it was no coincidence that the 7 Series was launched globally with the i7 - a luxury electric sedan. Marking it to be a symbol of forwardism, going beyond a luxurious drive, Parain added, "The main topic is sustainability in the choice of the material we use. We have driven today in a car that has seats made with Cashmere. Of course, the CO2 footprint of Cashmere is very different than that of leather."
Autonomous driving
Referencing to the recent decision of BMW's advanced driver assistance system, Autobahn Assistant, becoming the first system of its kind to be approved in Germany for speeds of up to 130 km/hr from the German Federal Motor Transport Authority, Parain said "We got the permission to have autonomous driving hands off 130 km/hr. It means you can drive until this speed without putting your hands back on the wheel."
In Germany, BMW's ADAS system will combine with BMW's active lane change assistant - that can automatically change lanes at speeds up to 180 km/h to deliver the experience of autonomous driving.
Future plans
Alluding to the futuristic features in the upcoming models, Parain revealed "Probably at the International motor show (IAA) in Munich in September, we will showcase the future of the interaction between the car and the driver and how the driver finds information without Any more the high drive, but with another kind of interaction -- Projection Touch, something that has not been seen so far."
Hinting at innovation in battery technology, Parain added "We will launch in 2025-26, the Neue Klasse, that's a new architecture, purely electric, that is really revolutionary for BMW."
More of it at the IAA in Munich in September. This Neue Klasse will also be built around a new battery technology. It will really be a game changer. "
Al Jenaibi International Automobiles is the official importer of BMW cars in Oman and has won 5 awards at the BMW Middle East Aftersales Conference in Malaysaia in December 2022 and again this year at the BMW Group Middle East & Sales Conference 2022.
Talking about the positioning of the BMW cars in Oman, Rachid Zamani, said "We target Opinion Leaders because they are the best brand ambassadors for our vehicles. The other category is the GKL Plus (Grand Klasse), which is the ultra-luxury segments such as the 7 Series, the X7 and the 8 Series."
Affirming BMW's 20-year-strong partnership with Al Jenaibi International Automobiles, Parain concluded, "Our partner has the intention to invest in an additional service facility. There's really a strong belief that this market will steadily, positively develop."