Barcelona (Spain) : From foldable phones to rollable screens, the latest technological innovations in the mobile communication industry are on display at the 2023 Mobile World Congress (MWC) in Barcelona from Feb. 27 to March 2.

The latest smartphones and accessories like smartwatches, tablets and headsets feature heavily in the show, along with other technologies, such as 5G and 6G connectivity, virtual and augmented reality, artificial intelligence (AI) and even electric vehicles.

6G connectivity
Connectivity is a key theme, and in particular the rollout of 5G technology. According to the GSMA, an industry group that represents the world's biggest mobile phone operators, 5G connections are expected to double over the next two years, reaching two billion by the end of 2025, with 6G connectivity already on the horizon.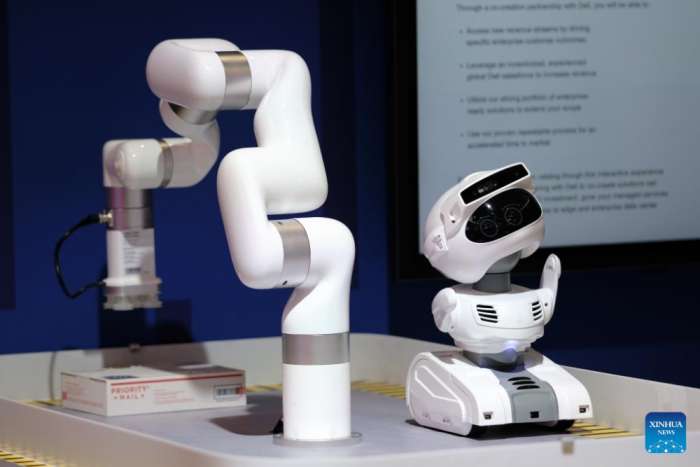 A smart robot and a robotic arm are pictured on display at the 2023 Mobile World Congress (MWC) in Bacelona, ​​Spain. Photo: Xinhua
Mats Granryd, director general of GSMA, spoke about the usage gap as one of the biggest challenges facing the mobile industry today. "We need to work across the whole ecosystem to eliminate the barriers, which are handset affordability and digital skills and literacy, and create relevant content in local languages ​​to ensure everyone can safely access mobile internet."

Digital Inclusion
The GSMA estimates that 3.2 billion people worldwide are prevented from sharing the benefits of access to digital services. This year's MWC also has a dedicated area to raise awareness of the usage gap and foster digital inclusion.
Immersive technology, whether virtual, augmented or mixed reality, is another area well-represented at the show, along with the potential of the metaverse in tandem with 5G, AI and wearables to not only provide immersive entertainment but also expand the possibilities in education, health and industry.
Digitization of factory lines
The MWC is also hosting a Manufacturing Summit, a FinTech Summit and a Smart Mobility Summit every day, where speakers discuss solutions for areas such as the digitization of global factory lines and assets, the industrial metaverse, automation or fighting financial crime.

This year's event also features the "Journey to the Future," an immersive storytelling space, a new zone to showcase the full potential of disruptive technologies in the health, sustainability, retail, sports, mobility, entertainment and robotics industries.
Click here for more pictures.