Muscat: The Omani French Friendship Association held its first Corporate Games event on Saturday and it was a resounding success. The program, which was designed to strengthen cultural ties between companies and the French community in Oman, brought together 120 employees from different Omani and French companies for a day of fun and camaraderie. The companies participating were Oman Arab Bank, Khimji Ramdas, Omantel, Premium Motors, they were the 4 sponsors of the event, and JCDecaux, Credit Oman, Al Ansari Trading Enterprise LLC, Apave, LFIM participated as well. The event was hosted at the French International School of Muscat and very well organised by SportsMania Oman.
The day was filled with a mini football and basketball tournaments, shooting contests, tug of war, relay race, and games for kids. Employees participated in these activities with enthusiasm and energy, and the friendly competition brought out their best as they worked together to achieve their goals.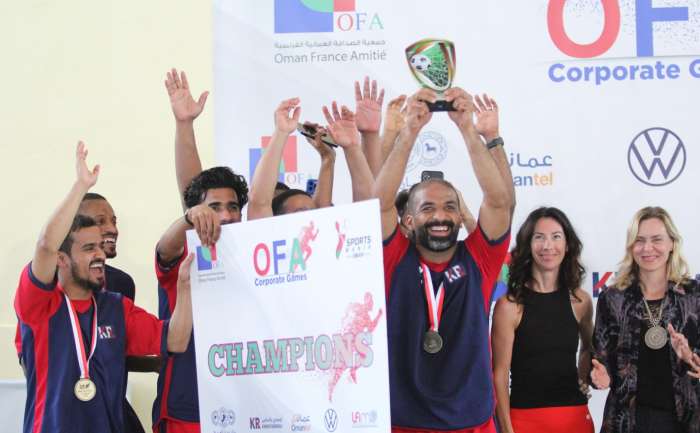 Participants at the event.
"The response to our Corporate Games program has been overwhelmingly positive," said Mr. Sulaiman Al Harthy, CEO of Oman Arab Bank and President of OFA. Mr. Bechir Chehab, Managing Director of JCDecaux and Treasurer of OFA added "Our employees had a great time participating in these activities and really enjoyed the opportunity to bond with their colleagues. The camaraderie and teamwork on display were truly inspiring, and we're confident that these relationships will translate into improved productivity and morale in the workplace."
HE Veronique Aulagnon, French Ambassador to the Sultanate of Oman drew lots for the weekend to be won and presented the trophies and medals to the winners.
The championship cup and the gold medal were handed over for the five-a-side football competition to the Khimji Ramdas team, and the silver medal to Omantel team with a score of three goals to one. JCDecaux team won the gold medal for the basketball 3 x 3 tournament and the silver medal went to Apave team. JCDecaux won the tug of war competition, while the first-place award in the 3 points basketball game went to Matthias, a student from the French International School.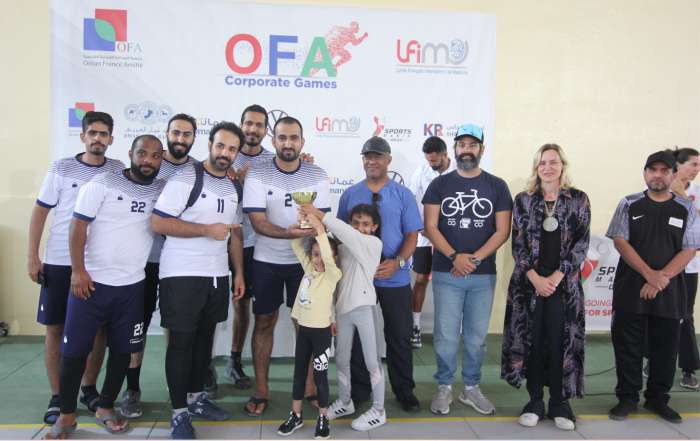 Participants at the event.
OFA plans to make the Corporate Games program a regular event, with the next one already in the planning stages for 2024.
"We're thrilled with the success of this program and look forward to continuing to strengthen our corporate community" said Ms. Marie Elicagaray, OFA Coordinator.
OFA is a non-profit organization that aims to promote friendship and mutual interests between French and Omani communities in the Sultanate. OFA is organising along with the economic department or the French Embassy, a conference on Human Capital on March 6th, from 8 AM to 12PM at the Crowne Plaza Qurum, on the occasion of the 5th edition of the French Weeks in Oman. Stay tuned, the French Embassy will announce the full program soon.