Muscat Nights concluded on Saturday under the slogan of 'Menawrah Bewejodak' with an outstanding closing ceremony held at different venues in Muscat.
Seventeen nights of entertainment, amusement, culture and cuisine, that was held in four different venues in Muscat, was inaugurated at Qurum Natural Park on 19th January under the patronage of His Excellency Sayyid Saud bin Hilal Al Busaidi, Governor of Muscat, His Excellency the Chairman of Muscat Municipality, and a number of their excellencies, sheikhs, representatives of the authorities and other invitees.
It concluded yesterday with a wonderful concert of Omar Abdallat and Khaled Abdul Rahman at the Muscat Drift Arena in the Omani Automobile Association. Another concert of Haitham Rafi and Mohammed Al Manji was held in Naseem Garden. The activities of Muscat Nights 2023, which started from 19th January and continued till 4th February, included a variety of activities that were designed to meet the expectations of the public and serve the various segments of society.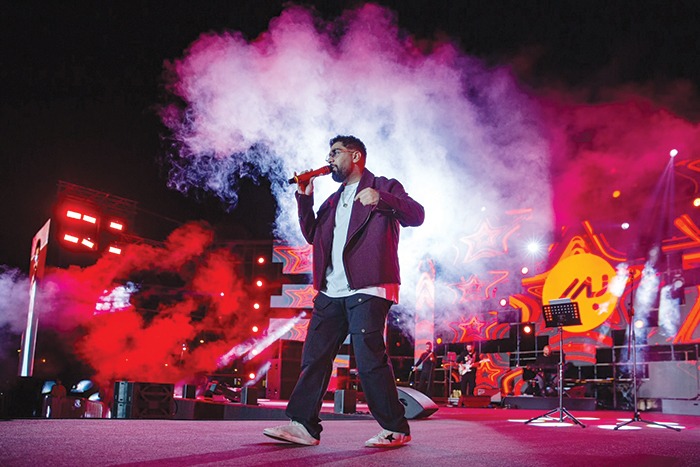 It was a real visual delight for the visitors at Qurum Natural Park who got an opportunity to see several laser and LED shows that illuminated the lake and also brightened the night sky of Muscat. The sounds of the various musical compositions reverberating in the air and the reflective laser lights on the waterfronts were a sight to behold. Drone shows were also one of the biggest attractions this year. To engage the audience the outdoor cinemas were introduced in Qurum Natural Garden and Naseem Garden which were quite popular amongst the youngsters.
Sandeep Paul, an educator, had a memorable experience at Muscat Nights. "Visiting Muscat Nights was a pleasant experience. The chilly winter evenings were the perfect time to visit with family and friends. It was good to see the smiling faces of the children enjoying their favourite rides, holding the colourful balloons and savouring the cotton candies," he reminisced.
Sandeep was delighted to see the adults strolling around without their masks, enjoying their cup of karak tea with cheesy loaded fries."The laser show and the drone shows were magical and mesmerising in the perfect setting of the lake in Qurum Natural Park. Although some attractions like the live tableau were missing, overall the biggest happiness was to be able to visit Muscat Nights and enjoy it after a long time," he added.
The Oman Convention and Exhibition Centre had showcased an entertainment carnival for children. It included some of the popular shows like 'Aladdin' and 'Alice in Wonderland' and cartoon circus such as 'Winter in the Woods', a circus that simulated an experience that reflects the Arctic winter. The other carnival shows that were enjoyed by the children were 'Lion Fantasy', 'Mr. Bob' and '3D Mapping' show.