Since its establishment in 1996, Modern College of Business and Sciences (MCBS) has enjoyed a reputation of being one the leading educational intuitions in the Sultanate of Oman. Licensed by the Ministry of Higher Education, Research and Innovation, MCBS offers its students a unique curriculum that is taught by distinguished academic instructors. This is to provide all students, Omani and international, with the opportunity to obtain a recognized academic degree in the fields of commerce and sciences. One of the core values is ensuring that students are in an environment that allows education to be a desirable process. Facilities such as classrooms that are equipped with the latest technologies, a library, laboratories, and recreational services are among MCBS's top priorities and are provided to the students to guarantee the best learning environment for them.
MCBS offers diverse academic and training programs and provides high-quality educational services in various disciplines to meet the needs of the labor market in the Sultanate and globally. The college offers Associate and Bachelor, as well as Master degrees in both English and Arabic. These programs include various majors: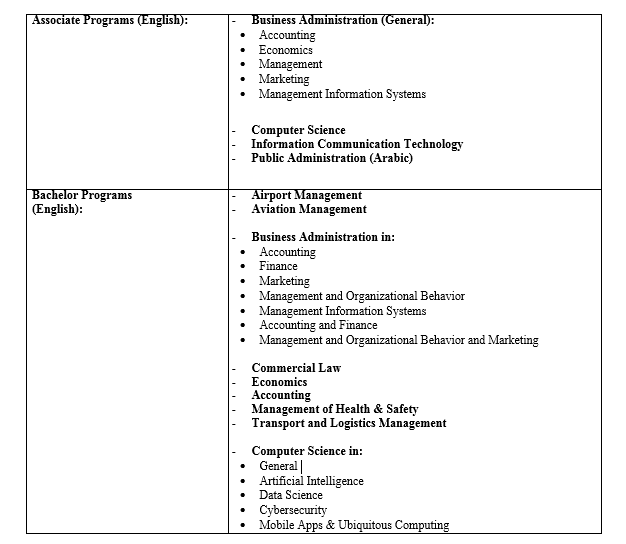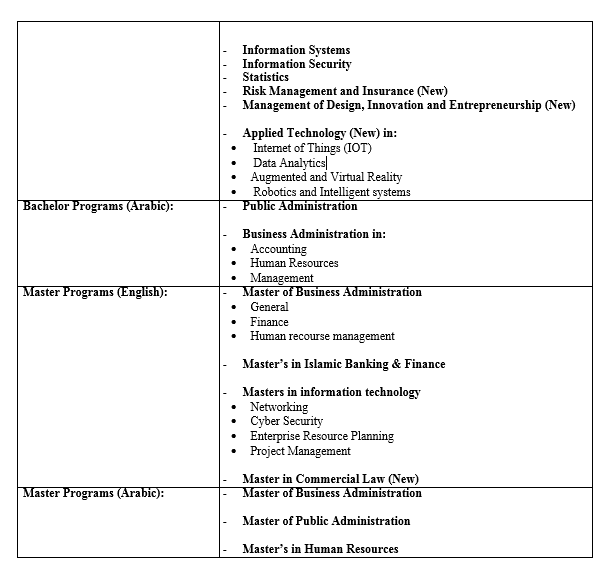 In addition to offering a wide range of programs to suit the evolving market, the college offers professional and business-related courses through The Academy, MCBS's Center for Professional Studies. The center follows ADRI (Approach, Deployment, Results and Improvement) approach and training practices that are based on Harvard Business School practices. The center offers short courses for job seekers and new employees, as well as programs that are designed specifically for women, WEB (Women Education in Business). Project Management, Human Resource Management, Marketing and Advanced Leadership courses are also among the courses that are offered by the Academy. The Academy also offers professional English language training courses that include structured classes and cover all four skills: reading, writing, speaking and listening. Classes are taught using accredited curricula and modern methodologies and are completely learner centered.
One of the key aims of MCBS is to inculcate active citizenship values and competencies in its students to become global citizens. MCBS's mission is to guarantee the highest quality of education by providing a team that is highly specialized and trained to support the comprehensive development of the national economy and equip its graduates with the necessary knowledge and skills that will enable them to work efficiently and effectively.