Muscat: The maiden visit of Japan's Ground Self-Defence Forces (JGSDF) Western Army Band to the Sultanate of Oman is only the start of many more cultural exchanges between the two countries, according to Jota Yamamoto, Ambassador of Japan to Oman.
Around 50 military personnel of the Japan Ground Self-Defence Force's Western Army Band attended the military tattoo 'Military Music: Oman and The World' hosted by the Royal Opera House Muscat over the past three days.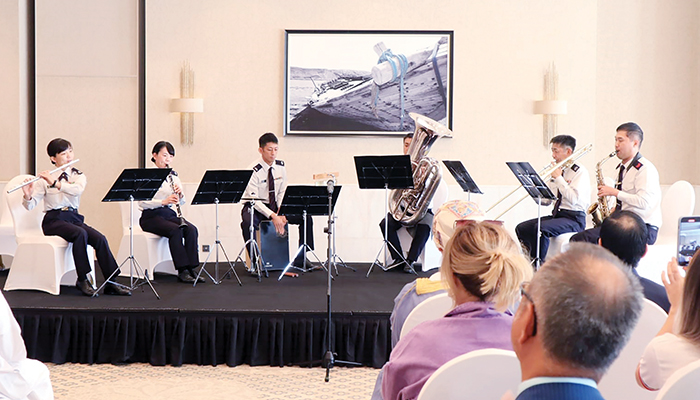 Their performances included drills, singing and Japanese drums that left the audience enthralled over the three days from November 3-5.
Ahead of their performances at the ROHM, a six-member team performed at a concert, organised by the Embassy of Japan, at the Crowne Plaza Hotel.
Speaking to Times of Oman, Yamamoto said: "This year 2022 marks the 50th anniversary of the establishment of diplomatic relations between Japan and the Sultanate of Oman.
"As part of our celebrations we plan to mark this landmark year with a series of cultural exchanges that would spill to next year. These exchanges will further strengthen the strong ties between the two countries."
Dr Khalid bin Said Al Jarady, Chief of Protocol Department at the Foreign Ministry was the chief guest.
Yamamoto said: "Japan's Self-Defense Forces have never attended any tattoos in the Middle East region. We are delighted to have Lt Col Shiga [Commander of the Western Army Band] and his Western Army Band of the Ground Self-Defence Force perform at the prestigious military tattoo with the Omani and French military bands.
"Oman has long been a precious partner for Japan's Maritime Self-Defense Force. Our ships make frequent visits to Port Sultan Qaboos and Duqm ports. It is a timely visit as this year marks the 50th anniversary of Japan-Oman diplomatic relations. It is personally pleasing too, as the Western Army Band is coming from Camp Kengun, Kumamoto Prefecture, which is my birth place and homeland."
Six members of the 50-member band performed and began the concert with "Hana wa Saku", a Requiem for victims of the Great East Japan Earthquake in 2011.
The song is a message of sincere thanks from all Japanese people to many people and countries in the world who extended enormous support in the aftermath of earthquake. Yamamoto expressed deep gratitude from Japan to people in Oman, and people in all the countries of today's guests.
Japan Self-defence Force (JSDF) bands have a variety of missions to include raising the morale of JSDF personnel, providing music for official military functions and ceremonies, and serving public relations. Their activities now have expanded to the international arena, and frequently joined the military tattoo festivals in the world. With their high professionalism, they also provide capacity building assistance of music education to a military band in the Pacific.