Muscat: In celebration of National Day and Constitution Day of Nepal, a reception was organised at Sheraton Oman hotel by the Embassy of Nepal in Muscat on 19 September 2022.
Sheikh Sebaa bin Hamdan bin Sebaa Al Saadi, Secretary General of the Secretariat of the National Celebrations, the Sultanate of Oman participated as Guest of Honour (Chief Guest).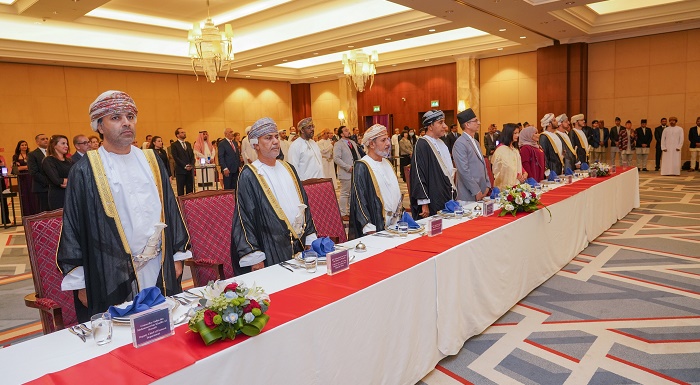 Two members each from State Council and Majlis Al Shura, Undersecretary of the Foreign Ministry for Administration and Financial Affairs, Chief of Protocol, Acting Head of West Asia Division and altogether 240 guests including Heads of Diplomatic Missions, high level government officials, journalists, tourism and business entrepreneurs, bloggers, representatives of Nepali Community, Embassy staff and family members participated in the programme.
While delivering welcome speech Dornath Aryal, Ambassador-designate of Nepal to the Sultanate of Oman highlighted the major features of the Constitution. The Ambassador stated that both countries are enjoying excellent relations based on mutual trust and understanding ever since the establishment of diplomatic relations in 1977. He told that both countries have been independent throughout their history.
Highlighting the 'Oman Vision 2040' promulgated by Oman, Aryal applauded the vision that it targets to achieve a developed, diversified, and sustainable national economy while identifying national priorities and addresses regional and global challenges. He expressed his confidence that the goals would be achieved under His Majestythe Sultan's visionary leadership and would be an exemplary thought.
The Ambassador mentioned that more than 220 projects above one megawatt installed capacity are under construction in Nepal which will generate more than 7,000 MW of electricity. He expressed the confidence that three International Airports including newly built two International Airports and existing 43 domestic airports would significantly help promote tourism and economic activities in Nepal. He stated that Nepal's strategic location between two major global economic powers and geographical proximity has provided tremendous opportunities for potentials of trade and investment. The Ambassador also highlighted about Nepal's diverse natural and cultural attractions.
A celebration cake was jointly cut by the Guest of Honour and the Ambassador. The Embassy had set up "Nepali food Corner" serving Nepali MoMo, Choila, Achar and displayed Nepali products, handicrafts, and tourism materials.
Tourism promotional videos were displayed in five huge monitors inside and outside conference hall. As part of promotion of tourism there was a raffle draw for 4 two-way airlines tickets to Kathmandu/Lumbini and two nights' accommodation including breakfast and cable car for four persons at Chandragiri Hill Resort which was sponsored by the SalamAir, Jazeera Airlines and Chandragiri Hill Resort respectively. The programme was conducted by Somesh Thapa, Second Secretary/DCM.