Jaalan: A group of desert campers set out on their usual adventure in the vast Sharqiya Sands to cut down the everyday stress and chill out away from the noise of the city.
They were part of the Guide Oman Tour adventure that takes people to discover themselves in beautiful spots by following tracks in their four-wheel drives.
But what the friends came across this time was not something they had bargained for. After finding a perfect spot to camp, they set up lunch at Tawi Halais and started enjoying the peace that surrounded them.
An unusual rescue was about to unfold. When the guests and crew were traversing the desert in their four-wheel drive vehicles, they suddenly stopped in their tracks.
"We found a baby camel in the sands, all alone. It was maybe less than one week old. It was obviously crying for its mother, who was nowhere to be seen," Yusuf Al-Balushi, one of the campers in the group, told Times of Oman.
He said the baby camel was very weak, distressed, thirsty and hungry. The animal was also nervous, agitated and required "gentle" encouragement.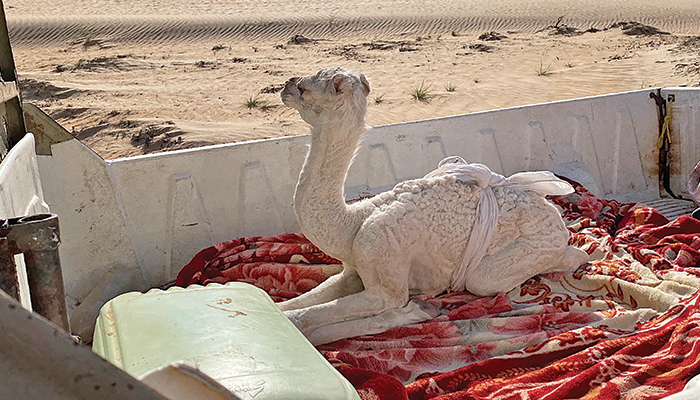 "We helped her to drink milk and water because she was very tired. We all worked together to make sure she was alright. But after that, we could not leave it alone. Obviously it would not have survived alone in the desert for too long," Yusuf explained.
The group of desert adventurers then became rescuers. They gently put the young animal in the back of one of their vehicles. But the question they had was "now what." They could not just continue with their adventure with a baby camel at the back seat. It needed a 'mother' because it was still a baby who needed milk and full care. Jose Maria Silva, another adventurer in the group, recalled that it was also hot and it was clear the baby camel might not survive too long without proper nourishment.
"We had to find experienced local people to hand over the baby camel to be looked after. We did not know anything about camels or how to take care of the animal," Jose told Times of Oman.
They decided to gently drive over the sand dunes looking for local Bedouins. It took them close to two hours to find a Bedouin who agreed to take the baby camel. He also promised to look for the owner and hopefully reunite her with her mother, or at least find it a foster mother.
Both Yusuf and Jose recalled how the Guide Oman's technical team called 3R typically lived up to its image as 'Recovery, Relief and Rescue.'