SHRIMP AVOCADO BRUSCHETTA
Ingredients
5-6 tomatoes, diced
450 gms shrimp, peeled and cooked
2 spring onions, finely chopped
1 ripe avocado, peeled and diced
1 garlic clove, minced
Salt and pepper
1/2 lemon, juice of
Olive oil
3 tbsp readymade basil pesto sauce
3 tbsp grated Parmesan
1 French baguette, sliced and toasted
Preparation
Slice the shrimp horizontally through the middle.
In a large bowl, combine the tomatoes, shrimp, green onions, avocado and garlic. Season with salt and pepper.
Add the lemon juice, 2 tbsp olive oil, basil pesto and Parmesan. Toss gently to combine.
Transfer the shrimp bruschetta into a serving bowl.
Cover and refrigerate for 1 hr. When ready to serve, toss the bruschetta gently to freshen.
Toast the bread slices and serve next to it.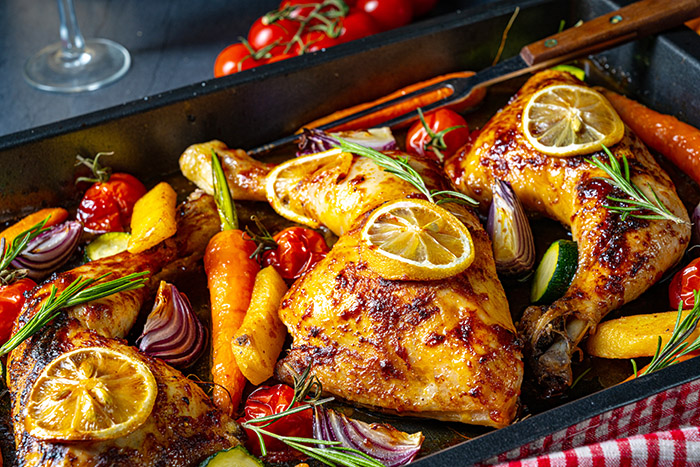 SIMPLE CHICKEN ROAST WITH VEGETABLES
Ingredients
1 kg mix of chicken thighs and drumsticks
A mix of vegetables (like onions, garlic, carrots, zuchinni, potatoes and/or broccoli)
Olive oil
1-2 tablespoons balsamic vinegar
Salt and pepper, to taste
Fresh parsley, chopped
Dried herbs (thyme, rosemary, oregano)
Preparation
Heat the oven to 425°F.
Wash and cut the preferrred vegetables into bite-sized pieces.
Make a bed for the chicken pieces by arranging the vegetables on the bottom of a baking dish. Sprinkle with olive oil, balsamic vinegar, salt, pepper and herbs.
Rub the chicken drumsticks and thighs with olive oil. Sprinkle the chicken pieces generously with salt and pepper and place on top of vegetables.
Bake for an hour or until chicken is done. Let the chicken pieces rest on a serving platter.
Mix vegetables in the baking dish and roast 5-10 minutes longer if needed.
Garnish with chopped fresh parsley.

CHRISTMAS RICE
Ingredients
1 cup water
3/4 cup vegetable broth
1 + 1 tablespoons extra virgin olive oil
1 clove of garlic, minced
1 cup rice
A pinch of salt
1/2 cup onions, diced
1/4 cup red pepper, diced
1/4 cashews, cut in half
1/4 cup walnuts, chopped
1/4 cup almond, chopped
1 tablespoon parsley, chopped
Preparation
In a pan, bring water and vegetable broth to a boil.
In another pan, combine olive oil, garlic and rice. Stir for 30 seconds.
Pour the boiled liquid into the rice mixture.
Reduce heat to medium/low, cover and simmer until tender and all the liquids are absorbed, about 15 to 20 minutes.
After cooking simply leave the rice to rest for a total of 5 minutes.
Remove the cover, fluff and separate the grains with a fork. Set it aside.
In a saucepan, add 1 tablespoon olive oil, onions and red peppers. Cook until the onions are translucent.
Add cashews, walnuts, almonds and rice. Mix well till everything is combined.
Transfer to a serving dish and garnish with finely chopped parsley.
QUICK MICROWAVE CHRISTMAS PUDDING
Ingredients
500g mixed dried fruit
100g dates de-seeded
100 grams prunes de-seeded
150 grams butter
5 tsp bicarbonate of soda
1/3 cup brown sugar
2 eggs
1/2 cup marmalade
1/4 cup maple syrup
2 tsp mixed spice
1 tsp cinnamon
1/2 tsp nutmeg
1 cup plain flour
1 cup self raising flour
Preparation
Grease a microwave proof pudding bowl with little butter.
In another microwave proof bowl, add the dried fruit, dates, prunes, butter and 1/2 cup of water.
Microwave on high for two minutes or until butter has melted and the mixture is heated through.
Stir in the bicarbonate of soda and leave aside to cool. Add the sugar, eggs, marmalade, spices and sifted flours to the dry fruit mixture and fold until combined.
Pour into the greased pudding bowl and smoothen the top.
Microwave on medium for 25 minutes. Gently pour the syrup on top.