Muscat: NMC Healthcare Oman, leading hospitals group in Oman welcomed four newborns on the 51st National Day of Oman. The first NMC National Day baby – a boy - was born at NMC Hospital Al Hail at the dawn of National Day and other 3 babies – one girl and 2 boys – were delivered at NMC Hospital Ghoubra.
"We're all delighted". The first NMC 'Baby of the National Day 2021' was born just at the dawn of the prestigious day in the Sultanate. – "It is an incredible feeling to have a baby on National Day", Anish Menon Head – Operations NMC Hospital Al Hail said.
"It is a dream of every Omani to bring their children into this wonderful world on the National Day and I am very happy that my wife has delivered today," said delighted father, Hisham Hamed Al Amri. Happy to welcome their baby boy on the special occasion, Omani couple named him Uday.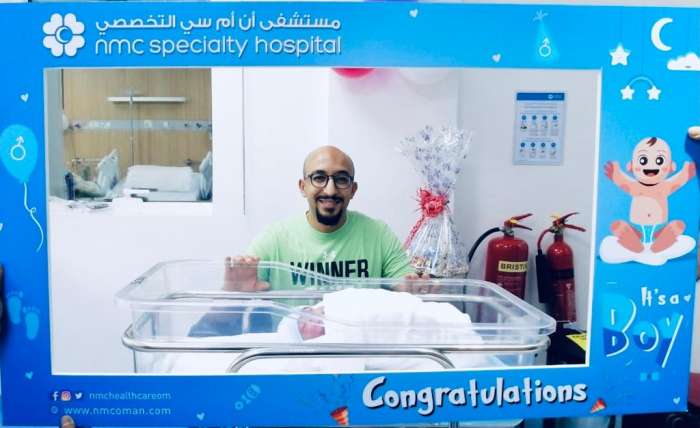 "Today is an unforgettable moment for our family. We are extremely pleased that Baby Uday shares his birthday with the National Day of our great nation. It is a double celebration for us from this year onwards," said the proud father.
He added, "We are thankful to Dr. Addiba, and the medical team of NMC Hospital Al Hail for their dedication and care to safely deliver our precious gift."
Whereas at NMC Hospital Ghoubra, three babies got delivered on the National Day – one baby girl and 2 boys. The deliveries were conducted by Sr Consultant Dr Abdul Rahman Al Farsi & Dr Maheswari, Dr Beena and Dr Reshma with the support of Dr Martin, head of Neonatology & Paediatrics.
The overjoyed Omani parents said they are happy and grateful to the Almighty for blessing them with a baby girl on this special day.
"We have been longing for this since Jaziya became pregnant. It is a blessing that the child has been born when the nation as a whole is celebrating the national day," said Mohammed Nasser. "Big thanks to Dr Reshma, Dr Martin and the entire medical team at NMC Hospital Ghoubra for the wonderful service and dedication extended to make the special moments for us".
Dr Reshma, Expert Obstetrics and Gynaecologist at the hospital who helped to deliver the baby, expressed her happiness: "The couple was anxious in the entire period of gestation due to the pandemic, yet they followed the guidelines and practiced social distancing thereby keeping the baby and themselves safe until the time of birth."
"It is an incredible feeling to have a baby on National Day and it's great to see the happiness of families who have their children born on special occasions." Dr Vinod, Operations Head-NMC Hospital Ghoubra commented. "It was a coincidence and not elective ones hence we feel more delighted for their joyous moments. We wish the very best and good health to all the three babies".
"We are happy to have our precious gift on such a memorable day in a country which is our second home", said the happy father Jithin, whose wife delivered a baby boy. We appreciate the dedication and care extended by Dr Beena and hospital staff for a safe delivery.
Excited at the birth of their baby boy, the thrilled father Shady Nasri said: "I am so happy to have our precious gift on such a memorable day and it's great that he will be celebrating his birthdays on the same day of Oman National day, a country which is our second home".
"To be blessed with the baby on a special day is an incredible feeling. We wish the family a very happy and a healthy life," Dr Abdul Rahman Al Farsi & Dr Maheswari, who safely delivered the bundle of joy for the parents.
"It was double bonanza for some Oman residents who were not only celebrating the 51st Oman National Day but also the birth of a child making this day extra special for them, said Dr Deep Makkar Country Head – NMC Healthcare Oman.
"Congratulations to the parents on the joyous occasion and in times like these when you hear such happy news, it warms the heart and makes one feel blessed. On the behalf of NMC Hospitals, I'd like to extend our best wishes to the parents and pray that these and all other children grow in a happier and safer world," Dr Deep added.