CRUNCHY CHICKEN RIBBON SALAD
Ingredients
500gm boneless chicken, boiled and shredded
2-3 iceberg lettuce, teared
2-3 romaine leaves, teared
1/2 carrot, sliced into ribbons
1/2 cucumber, sliced into ribbons
4-5 cherry tomatoes
1 medium sized red and yellow bell peppers -finely chopped
5-6 black olives
Dressing:
2 tbsp lime juice
2 tbsp honey
2 tbsp olive oil
Salt, to taste
Pepper, to taste
Preparation
In a bowl mix together all the salad ingredients.
In another bowl whisk together oil , honey and lime juice.
Season with salt and pepper.Pour the dressing over the salad.Serve.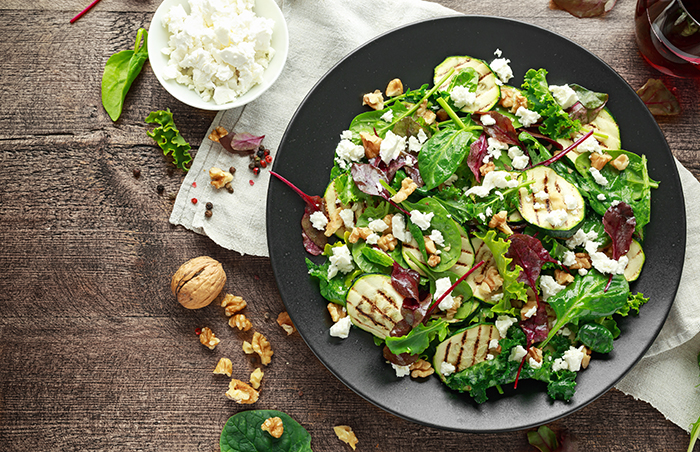 FRUITY VEGETABLE WALNUT SALAD
Ingredients
1 bowl watermelon cubes
2 green bell peppers, finely chopped
1 cup onions, finely chopped
1 cup cucumber, finely chopped
1/2 bunch of parsley, finely chopped
Pomegranate molasses- 1/4 cup
2 tbsp olive oil
Cumin powder, a pinch
Oregano, a pinch
Flax seeds and walnuts as garnish
Preparation
Pour pomegranate molasses into a bowl.
Add oregano, cumin powder, salt & pepper and whisk it well. Then add olive oil.
In another bowl, put the watermelon cubes, bell peppers, onions and cucumber.
Add parsley, salt and pepper. Mix them all well.
Add flax seeds and walnuts. Add to the watermelon mixture. Toss it well.Serve chilled.
BEETROOT FETA SALAD
Ingredients
1 tbsp of brown sugar
2 tbsp of vinegar
1 medium sized beetroot, boiled and peeled
1/4 cup feta cheese
8-9 olives (seedless)
1 sprig of mint leaves
Season with salt and pepper
Olive oil to garnish
Preparation
In a pan, heat vinegar along with brown sugar.
Let it cook till the sugar melts and the mix starts to thicken.Slice the beetroot and pour the vinegar-sugar mix over it. Mix them together well.
Crumble feta cheese over the beets and season with salt and pepper.
Add the olives. Mix them well.
Garnish with fresh mint.
Drizzle olive oil over the salad as a final touch.