LIGHT BEAN PASTA SALAD
Ingredients
¼ cup pasta ( macaroni )
1/2 cup sliced green spring onions
1/2 cup yellow or green pepper strips
1/2 cup sliced olives
1 cup halved cherry tomatoes
1 carrot, grated
2 cans red kidney beans, drained
For the dressing-
½ cup vegetable oil
3 tbsp. white vinegar
2 tbsp. lemon juice
3 tbsp. finely chopped parsley
1/2 tsp. salt
1/4 tsp. pepper
½ tsp garlic salt
Preparation
Cook pasta according to package directions; drain. Rinse with cold water; drain. Combine pasta with the 1/2 cup green spring onions, pepper strips, olives, tomatoes, carrots and beans; set aside.
Combine oil and remaining ingredients of the dressing. Blend in an electric mixie and process until smooth. Pour over salad mixture and toss lightly. Cover and chill at least 8 hours before serving.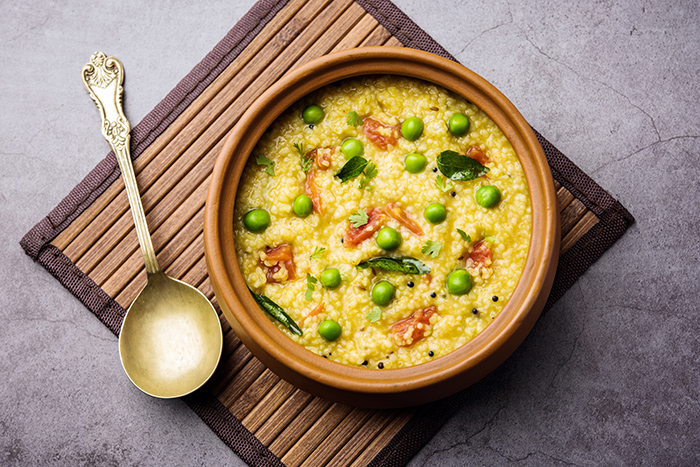 BROKEN WHEAT KHICHDI
Ingredients
1/4 cup chopped onions
1/2 tsp green chillie ginger-garlic paste
1 cup blanched mixed vegetables of beans, carrots and cauliflower
1 cup broken wheat
1/2 tsp turmeric powder
1 tsp coriander powder
1/2 tsp cumin seeds
1/2 tbsp ghee
Salt to taste
Coriander leaves to garnish
Preparation
Heat the ghee in a pressure cooker and add the cumin seeds.
When the seeds crackle, add the onions, green chillies ginger-garlic paste, mix well and sauté till the onions turn translucent.
Add the broken wheat, turmeric powder, coriander powder and salt along with 2 cups of water and give it a good stir.
Pressure cook for 1-2 whistles.
Allow the steam to escape before opening the lid.
Mix in the blanched the vegetables and let this cook for another 3 mins till the spices, vegetables and the broken wheat are well incorporated.
Serve hot with a garnish of coriander leaves.
CURD RICE
Ingredients
1/2 cup rice, (raw rice preferred)
1 cup thick yoghurt
1/4 cup Milk , (optional)
Salt , as needed
Cooking oil , as needed
Coriander leaves , Few sprigs, finely chopped
Handful or 1 sprig Curry leaves
Asafoetida , a pinch
1/2 teaspoon Ginger , grated
1 dry red chilli
2 green chillies , finely chopped
For tempering-
1/2 tsp cumin seeds
½ tsp mustard seeds
1/2 tsp black urad dal (split)
1 tsp chana dal (Bengal gram dal)
4 -6 cashew nuts , broken and roasted
Few pomegranate pearls for garnish
Preparation
Soak the rice for half n hour and cook it as per preference that is either mushy or fluffy.
Cool it completely.
Add yoghurt to the cooled rice and mix well until combined. If using milk, add it as well and stir.
Heat oil in a pan, add cashew nuts and fry them till golden brown.
Add cumin and mustard seeds, when they begin to splutter, add dals and fry until golden.
Once it is done, add ginger, red and green chillies and curry leaves. When the curry leaves turn crisp, add asafoetida and switch off the flame.
Add coriander leaves to the curd rice, pour the tempering and mix. Finally garnish with a handful of pomegranate pearls.
COUSCOUS WITH ROASTED VEGETABLES
Ingredients
4 tbsp extra virgin olive oil
2 carrots, cut into quarters lengthways and thinly sliced
2 red bell peppers, diced
1 zucchini, thinly sliced
1 red onion, cut into wedges and separated
1/2 cup slivered almonds
4 tbsp lemon juice
2 garlic cloves, minced
1 tsp turmeric
2 tsp cumin powder
2 tsp coriander powder
1/2 tsp ground cinnamon
2 tsp salt
2 cups couscous
1/2 cup raisins
2 1/2 cups chicken stock, brought to a boil
2 cup canned chickpeas, rinsed and drained
2 tbsp fresh mint, finely chopped plus extra for garnish
Preparation
Preheat the oven to 475°F. Toss the carrot, red pepper, zucchini and red onion in a baking dish with 1 tablespoon of the olive oil and bake for 15 minutes. While the vegetables are cooking, lightly toast the almonds in a frying pan until they're golden brown. Remove from the pan and set aside.
In a small bowl, whisk together the remaining 3 tablespoons of olive oil, lemon juice, garlic, cumin, coriander, cinnamon and salt, and mix well.
Once the vegetables have been roasted, mix the couscous, turmeric and raisins in a large bowl and pour over the boiling stock. Fluff the couscous with a fork to separate the grains and stir through the carrot, red pepper, red onion, almonds, chickpeas and mint. Pour over the dressing and toss together until well combined.
Serve on a large platter, either warm or at room temperature with a garnish of mint.