Farsi Puri
Ingredients
1 cup plain flour
2 tbsp semolina
1 tsp coarsely crushed black pepper
2 tbsp melted ghee
Salt to taste
Oil for deep-frying
Preparation
Combine all the ingredients in a deep bowl, mix well and knead into a stiff dough using little water.
Divide the dough into 20 equal balls and roll each portion into a 2 inches diameter thin circle.
Prick the puris all over using a fork.
Heat the oil in a deep non-stick wok and deep-fry a few puris at a time, on a slow flame till they turn light brown in colour from both the sides. Drain out the excess oil by placing them on an absorbant kitchen towel.
Cool completely and store them in an air-tight container.
Paneer Makhani Biryani
Ingredients
250 gm paneer cubes
3 Tbsp ghee/ clarified butter
4 cardamom pods
½ stick cinnamon
2 bay leaves
2 black cardamom
4 -5 whole black peppers
1 large onion,finely chopped
3 tbsp butter
1 cup fresh tomato puree
2 to 3 green chillies
2 tbsp fresh ginger garlic paste
1 tsp turmeric powder
1 tsp coriander powder
1tsp cumin powder
1 tsp tandoori masala
1/2 tsp cardamom powder
1 tsp sugar
1/4 cup cashew paste
1/2 cup cream
Pinch of kasuri methi( dried fenugreek leaves)
Salt to taste
6 cups cooked Basmati rice
1 cup fried onions
1/2 cup fried cashews
1/2 cup chopped mint and coriander
Preparation
Fry the paneer cubes in ghee and set aside.
In the same pan, add the whole spices such as bay leaves ,cinnamon, black cardamon, green cardamon, black peppercorns.
As the spices crackle, add the chopped onions, green chillies, ginger garlic and fry for 2 minutes. Add the powdered spices followed by the tomato puree. Simmer for 10 minutes Then add the cashew paste, cream and a dash of kasuri methi. Add the paneer into the gravy and bring to a gentle simmer for 6 to 8 minutes.
Using a greased pot or handi, layer the paneer curry and rice alternatively starting with rice. Garnish with fried onions, cashewnuts, fresh mint and coriander. Cover with aluminium foil and slow cook for 25 minutes. Serve hot.

BADAMI SHAHI KOFTA CURRY
Ingredients
For koftas
1 cup mix vegetables (finely chopped-carrot,flower,beans,peas)
1 large potato (boiled,peeled n mashed)
3 tablespoon all purpose flour
1/2 teaspoon baking powder
2-3 green chillies(crushed) / as per taste
1/2 teaspoon chillie powder
1 teaspoon coriander powder
1/2 teaspoon roasted cumin powder
For stuffing:
4 tablespoon golden raisins
corn flour for dusting
oil for frying / bake
For Curry:
2 tablespoon oil
1 teaspoon black cumin (shah jeera)
2 tomatoes (blanched n puree)
1 onion (chopped)
1/2 garlic (crushed)
1/2 ginger (crushed)
1 tablespoon chillie powder / as per taste
1/2 teaspoon garam masala
1/3 cup yoghurt
½ cup fresh cream
For white paste:
8/10 almonds
2 tablespoon grated coconut
2 teaspoon watermelon seeds
1 cup milk (warm)
For koftas:
Preparation
Mix the ingredients of koftas in a bowl and shape dough into small koftas/balls of lemon size balls.
Stuff a raisin in these balls and roll again.Dust with cornflour and deep fry on medium heat till golden brown.
For Curry:Soak all ingredients of white paste in warm milk for 1/2 hr and grind to smooth paste and keep aside.In deep pan heat oil,add black cumin and fry ginger, garlic and onions till rawness goes.
Add tomato puree and white paste and simmer for 3-5 minutes. Add remaining ingredients except yoghurt and cream.
Cover and cook till oil separates and now add the whisked yoghurt.
Cook for a minute,add koftas balls and drizzle cream .Serve HOT with rice or breads of your choice.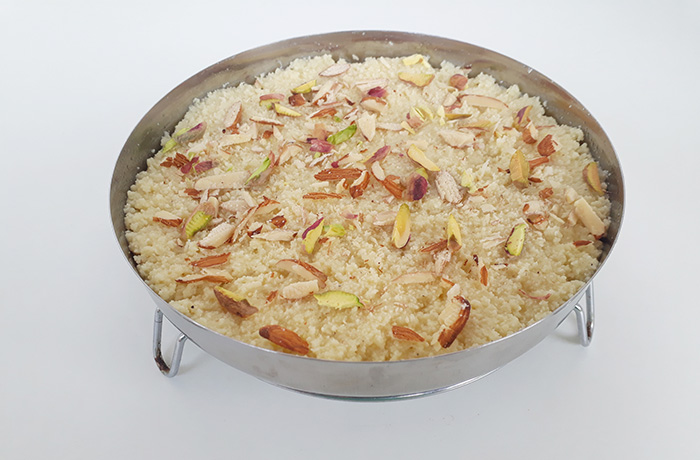 KALAKAND CHEESECAKE
Ingredients
Biscuits- 20 marie biscuits
Sugar- 3 tablespoon
Butter (melted) - 5 tablespoon
Cottage cheese (crumbled)- 2 cups
Condensed Milk- 400 grams (1 can)
Cream Cheese- 250grams
Green cardamom- 5-6(crushed)
Saffron- few strands dissolved in 1 tablespoon of warm Milk.
Pista, Cashew slivers to garnish.
Preparation
Start by crushing the biscuits to crumbs or use a blender to make the same.
Put in a large bowl, and stir in the sugar.
Next add melted butter and give it a good mix.
Press firmly the crumb mixture onto the bottom of a pan that has a removable base and add some in serving glasses.
Keep it in the fridge for 1-2 hours to set.
In a pan mix the crumbled paneer along with the condensed milk and simmer on low heat.
Keep stirring to avoid the mix from sticking to the bottom of the pan.
Keep stirring for 5-6 minutes, until paneer and condensed milk are well combined.
Add the cardamom and saffron. Cook for another 2-3 minutes while stirring.
Switch off the flame.
Kalakand is ready.Keep it aside and let it cool to room temperature.
Now in a bowl ,add Cream cheese and icing sugar.
Whisk them well with hand blender or stand mixer(whisk attachment)
Add the cooled down kalakand to this cream cheese mix.
Blend it well.
Pour it over biscuit crust base of the pan and some in the glasses.
Keep it again in the fridge for 4-5 hours to set completely.
Serve cold and garnish with slivers of pistas ,cashews and saffron.