Muscat: Mussanah Race Week returns on 30 October for the 11th edition with a new class joining the event this year.
Sailing alongside talented youngsters in the Optimist, Laser Radial and Laser 4.7 classes this year will be sailors from Oman Sail's para sailing programme, 'SailFree'. In total, 50 sailors are expected across all of the classes as some of the region's most promising young sailors return to the water in Mussanah for a week of racing, coaching and learning from each other.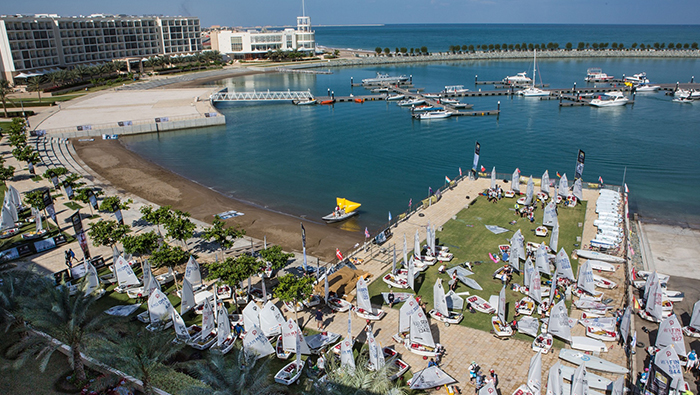 Launched in 2019, in partnership with BP Oman, SailFree is the Middle East's first sailing programme for people with disabilities. Sailors use the lightweight RS Venture craft which can be modified quickly and easily. Eight sailors from SailFree will take part in this year's Mussanah Race Week as the RS Venture makes its debut. Sailors from Malaysia, Egypt and Abu Dhabi will also be racing at the Barceló Resort Mussanah.
Shaima Al Asmi, Mussanah Race Week Project Manager, said, "Mussanah Race Week is a much-loved and highly-anticipated fixture in Oman Sail's sailing calendar that has been a crucial part of the development of young sailors for over a decade. We are delighted that the event is able to return this year and give the opportunity for young sailing talent to test themselves and develop as individuals with us. This year's edition is extra special as we will be introducing the RS Venture class for the first time and offer members of the SailFree programme a chance to race in a competitive environment. We look forward to welcoming all of the sailors, coaches, race officials and guests to Mussanah Race Week and hope it is a memorable experience for everyone."
As well as four days of racing, the sailors and coaches will take part in three days of classroom-based training and practice races with coaching in each of the classes by visiting professional international sailors.
The event is supported by a line-up of supported including Oman Air, OQ and the Barcelo Mussanah Resort as official partners, and Be'ah as environmental supporter and Salsabeel Water from the National Mineral Water Company as well as Medical support from the Naval Medicine Said bin Sultan Naval Base of the Royal Navy of Oman.
Al Mussanah Sports City, located 85km north of Muscat, was purpose-built to host Olympic-standard international sporting events with facilities to accommodate thousands of guests, global media and up to 400 boats at its onsite marina. The venue has become Oman's home of sailing, successfully hosting high profile events including the recent Asian Windsurfing Championships, the forthcoming ICLA Radial World Championships and Youth World Sailing Championships, as well as the opening stage of this year's Sailing Arabia – The Tour, among others, and is also home to Oman Sail's sailing school.