BAKED MOZZARELLA STICKS
Ingredients
1 pack of mozzarella string cheese
1 egg
1 tsp Italian seasoning
8 tbsp panko crumbs
Preparation
Preheat oven to 350 degrees Fahrenheit. Line a baking sheet with foil and spray lightly with cooking spray.
Remove cheese from packaging and set aside. In a small bowl, whisk egg until foamy. In a small non-stick skillet, mix Italian seasoning with bread crumbs and place over medium heat. Cook and stir bread crumbs until lightly browned, about 5 minutes.
Dip one piece of string cheese in egg until coated and then into toasted bread crumbs, coating completely. Redip the string cheese in egg and again into the bread crumbs, if desired. Place on baking sheet. Repeat with remaining string cheese and place on baking sheet 1 1/2 inches apart. Spray string cheese lightly with cooking spray.
Bake 5-6 minutes or until heated through. (Cheese may melt slightly and loose shape. Simply press it back into place.)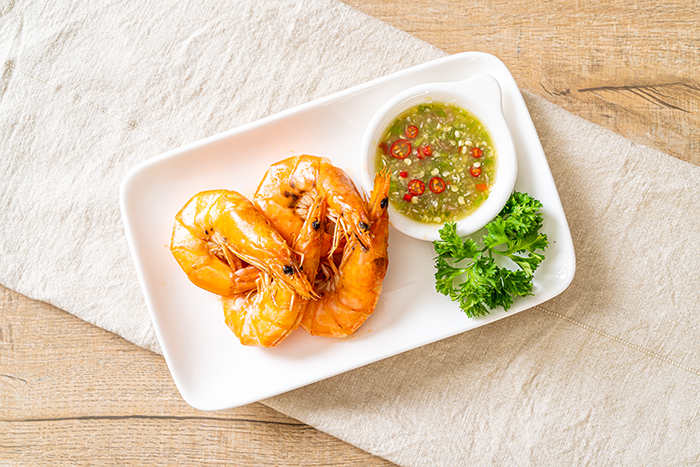 BAKED SPICY SHRIMP
Ingredients
1/2 cup olive oil
2 tbsp butter
2 tablespoons Cajun seasoning
2 tablespoons fresh lemon juice
2 tablespoons chopped fresh parsley
1 tablespoon honey
1 tablespoon soy sauce
Pinch of cayenne pepper
400 gms uncooked large shrimp, shelled, deveined
Preparation
Combine all the ingredients till shrimps in a baking dish. Add shrimp and toss to coat. Refrigerate 1 hour.
Preheat oven to 450°F. Bake until shrimp are cooked through, stirring occasionally, about 10 minutes. Garnish with lemon wedges.
BAKED BREAD CUPS
Ingredients
6 slices of brown bread
1/4 cup sweet corn, steamed
1 medium potato, boiled and diced small
1/2 red bell pepper, finely chopped
1/2 green bell pepper, finely chopped
1 small onion, finely chopped
2 cloves garlic, grated
1/2 teaspoon red chili powder
2 tablespoons tomato ketchup
Salt to taste
Butter for baking
Cheese slices or cheddar cheese
Preparation
To begin making the Baked Mini Bread Cups Recipe, preheat the Oven to 180 C and grease the Muffin Pan with butter.Heat a teaspoon of oil in a pan; add the onion and bell pepper and saute until lightly softened and golden.
Once the bell peppers have a roasted aroma, add the ginger, garlic, corn and chopped potatoes. Stir fry on high heat for a couple of minutes, so the vegetables get roasted. Finally add the chili powder, tomato ketchup and stir well. Check the salt and chili and adjust to suit your taste and allow the filling to cool.
Trim the edges of the bread, flatten with the rolling pin a bit and press them into the greased muffin pans.
You can optionally spray oil over the bread slices or leave them as it it. Spoon the potato filling mixture into each one of the bread cups. Tear the cheese slices and place them on top of the filling. You can also optionally spread grated mozzarella cheese.
Place the mini bread cups in the preheated oven and bake for about 10 minutes until the sides of the bread becomes crisp and the cheese has melted. Once done, remove from the Oven, allow it to rest for a few minutes and serve.