BREAD CRUST PUDDING
Ingredients
A bunch of bread crusts.
1/2 cup raisins
4 eggs
2 cups milk
3/4 cup white sugar
1 tsp ground cinnamon
1 tsp vanilla extract
Preparation
Fill up your baking dish with bread crust.Stir in the raisins.
In a bowl, beat together eggs, milk sugar, cinnamon, and vanilla.
Pour egg mixture over the bread crusts, and push down the bread to make sure all the bread is soaked in the egg mixture.
Bake at 350F degrees for 45 minutes, or until the top springs back when you lightly push it.

STIR FRY VEGETABLE BROWN RICE
Ingredients
2 tablespoons olive oil
3 cloves garlic, minced
1 piece (3 inches) fresh ginger, peeled and finely chopped
1 medium red bell pepper, cut into 1-inch chunks
1 medium yellow bell pepper, cut into 1-inch chunks
3 cups cooked brown rice
1 and half cup left over vegetables of your choice as such French beans, carrots, broccoli , cabbage,peas
3 tablespoons soy sauce
1 teaspoon sesame oil
Salt and pepper, to taste
3 scallions, halved lengthwise and thinly sliced
Preparation
In a large skillet or wok, heat the olive oil over medium-high heat. Add garlic and ginger; stir-fry until fragrant, about 30 seconds.
Add any leftover vegetables of your choice such as French beans, carrots, cabbage, broccoli, peas -fry until golden brown, about 2 minutes.
Add red and yellow peppers; cook, stirring, until peppers are crisp-tender, about 3 minutes.
Add rice and soy sauce; cook, stirring occasionally, until rice is heated through, about 3 minutes. Stir in sesame oil.
Season with salt and pepper; garnish with scallions. Serve hot.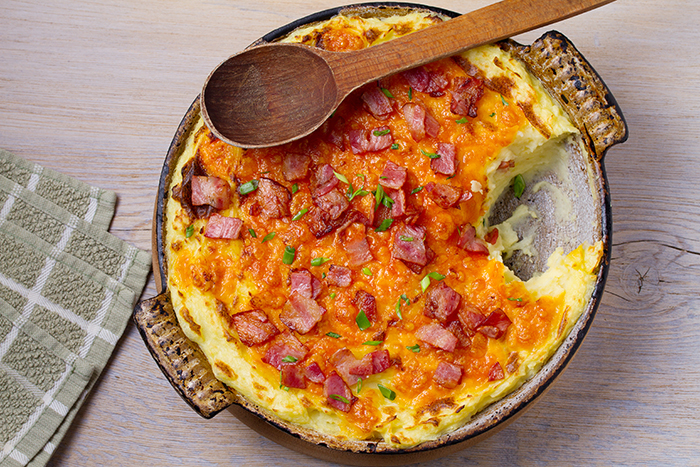 GARLIC MASHED POTATO AU GRATIN
Ingredients
4 cups leftover mashed potatoes
2 tbsp garlic powder
Salt and freshly ground black pepper
1 cup grated Parmesan
Preparation
Spread the mashed potatoes into a greased gratin dish.
Season with garlic powder, salt and pepper, to taste, and sprinkle with Parmesan.
Bake until top is golden and crispy, about 20 to 30 minutes at 180C.Serve hot.
CRACKERS CHAAT ( chaat from leftover crackers/biscuits)
Ingredients
Kreme Krackers( 1 packet)
½ cup mashed potatoes
1 cup yoghurt( whisked)
4 tbsp finely chopped tomatoes
4 tbsp on finely chopped cucumber
4 tbsp of finely chopped onion
1 tbsp chaat masala
5 tbsp of tamarind chutney
5 tbsp of mint chutney
Finely cut coriander for garnish
Sev/Bhujiya( fried gramflour noodles- ready made pack)
Preparation
Arrange the crackers on a flat serving plate. Top it with potatoes and then add the tomatoes, cucumber and onions.
Now gently add yoghurt and the chutneys, by covering the crackers well. Serve immmediately.
Garnish with coriander and Sev and serve immediately.