NO BAKE OREO PEANUT BUTTER PIE
Ingredients
24 Oreo cookies
4 tablespoons butter, melted
For the filling:
1 packet cream cheese
1 cup peanut butter
1 cup powdered sugar
1 teaspoon vanilla extract
3/4 cup whipping cream
Preparation
To make the crust:
Add the Oreos to a food processor and process until you have fine crumbs.
Add the cookie crumbs and melted butter to a mixing bowl and mix until fully combined.
Put the mixture into a pie plate and firmly press it down into an even layer on the bottom and up around the sides of the pie plate.
Transfer to the refrigerator to chill while you make the filling.
For the filling
In a large mixing bowl using an electric mixer, beat the cream cheese until smooth.
Add in the peanut butter, powdered sugar, and vanilla extract and mix .
In a separate mixing bowl, beat the heavy whipping cream with an electric mixer until soft peaks form.
Add the whipped cream to the peanut butter cream cheese mixture and mix it in on low speed until just combined.
Remove the crust from the refrigerator, pour the filling over the pie crust, and spread it around into one even layer.
Cover and return to the refrigerator to chill for at least 4-5 hours or overnight.
Serve chilled!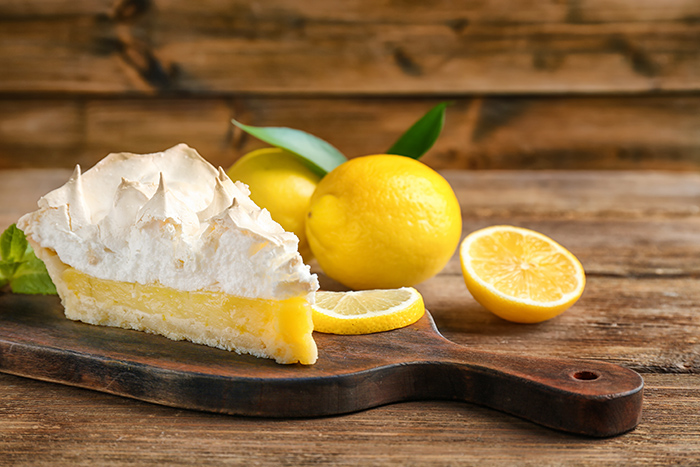 LEMON CREAM PIE
Ingredients
10 graham crackers
5 tablespoons unsalted butter melted
2 tablespoons granulated sugar
For the lemon filling:
1 cup fresh lemon juice
2 cans sweetened condensed milk
5 large egg yolks
Preparation
Preheat oven to 350°F.
Break up the graham crackers and place them in a food processor and pulse till they form fine crumbs.
Add the crumbs into a bowl and stir in the melted butter and sugar and mix well to combine.
Press the crumb mixture into the bottom and halfway up the sides of a pie plate.
Bake the crust for about 13-15 minutes, until fragrant and light golden brown. Set aside to cool.
Combine the lemon juice, sweetened condensed milk, and egg yolks in a large mixing bowl and whisk until fully combined.
Pour the filling into the room temperature crust and spread it around into one even layer.
Bake at 350°F for 20 minutes or until the top of the pie is set.
Remove from the oven and transfer to a wire rack to cool to room temperature for about 3 hours.
Transfer to the refrigerator to chill overnight. Once chilled, top with whipped cream, serve and enjoy!
EASY BAKED CHOCOLATE PIE
Ingredients
1 cup sugar
2 tbsp all-purpose flour
3 eggs (slightly beaten)
½ cup butter
2 bars of chocolate (chocolate used for baking)
1 tsp vanilla essence
1 cup milk
1 readymade pie crust
Preparation
Melt butter in a saucepan at low to medium-low heat.
Break up first bar of chocolate and stir into butter until melted; repeat with second bar.
Stir in the rest of the ingredients, one at a time and mix well.
Pour into readymade pie crust.
Bake for 45 minutes at 350 degrees.
APPLE PIE WITH GRANOLA
Ingredients
For the crust
1 ½ cups of granola
¼ cup sugar
½ teaspoon cinnamon
4 tablespoons butter, melted
For the apple filling
4 medium apples
3 tablespoons water
2 tablespoons butter
1 teaspoon cinnamon
1/3 cup sugar
1 tablespoon + 1 teaspoon cornstarch
2 tablespoons water
Preparation
Peel, core and slice apples.
Melt butter over medium heat. Stir in apples, sugar & 3 tablespoons water and cinnamon.
Cover and cook stirring occasionally for 4-6 minutes.
In a small dish combine cornstarch and water.
Add to pan while stirring and continue to cook until apples are soft and filling is thickened.
Keep aside.
Preheat oven to 350 degrees
In a food processor pulse the granola with the sugar and cinnamon until fine crumbs form. Pour in the butter and process until combined.
Press into pie plate and bake for about 10 minutes or until the crust is lightly golden.
Cool.
Now add the apple filling and bake for another 15 mins at 350 degrees till the top has browned.