FRUIT AND MACARONI SALAD
Ingredients
1 can mixed fruit cocktail, drained well
1 cup macaroni, boiled as per packet instructions and drained
1 pack cream
2 tbsp mayonnaise
Salt and pepper to taste
Preparation
Mix all the ingredients in a bowl.Refrigerate for 3 hours. Serve cold.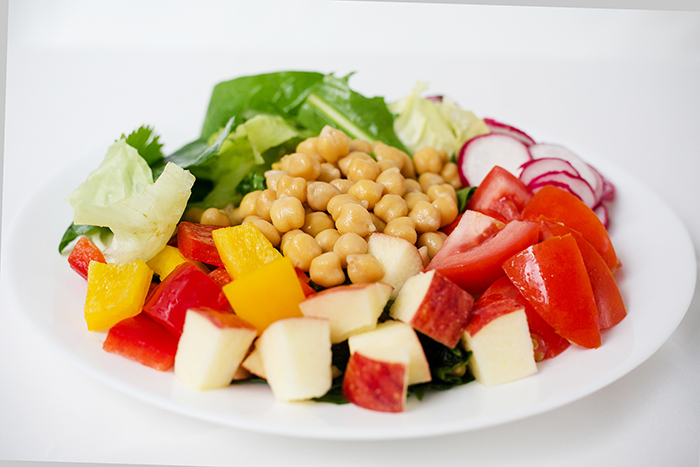 APPLE CHICKPEAS SALAD
Ingredients
2 cans of boiled chickpeas (drained)
1 apple, diced
1 onion,diced
1 small cucumber, diced
1 small red bell pepper,diced
1/3 cup fresh mint
1/3 cup fresh parlsey
for the dressing-
2 tbsp olive oil
2 tbsp honey
1 tbsp mustard paste
1 tbsp vinegar
1/4 tsp red chilli flakes
1/4 tsp dried mixed herbs
Salt and pepper to taste
Preparation
Combine the dressing ingredients in a seperate bowl and whisk well. In another bowl, add the salad ingredients.
Gently pour the dressing over the salad ingredients and toss to combine well.
Refrigerate overnight. Serve cold.
WATERMELON AVOCADO SALAD
Ingredients
4 cups watermelon, cubed
2 avocados, cubed
1 cup feta cheese crumbled
1/2 cup fresh mint leaves- torn
1/2 cup lime juice
Preparation
In a salad bowl, add the watermelon and avocado .Add the lime juice and toss .
Now add the fresh mint leaves and the crumbled feta cheese and toss gently to combine.
Serve immediately.