Barakat, who hails from Ibra, will try to show his top performance despite tough competition.
Tokyo: The Sultanate's top sprinter, Barakat Al Harthy is set to represent the country in Tokyo 2020 Olympics for the third consecutive time after London Games 2012 and Rio Games 2016.
The men's 100-metre preliminary heat two will begin at 6:43 am (Oman time) at Olympic Stadium. Weightlifter Amur will try to use his past lessons to perform better in this significant event as he will be in action on Saturday at 6:50 am(Oman time).
Barakat, who hails from Ibra, will try to show his top performance despite tough competition from other runners who will compete for the Olympic medals.
The 33-year-old is familiar with the tough competition in Olympic events and has gained the right experience which will help in improving his display during this Olympic Games and he will seek to break his personal best.
The exceptional and difficult circumstances of the ongoing Covid-19 outbreak has impacted the preparations of the athletes and national teams.
However, Oman Athletics Association (OAA) in coordination with the concerned parties in the Ministry of Culture, Sports and Youth and the Oman Olympic Committee seeks for alternative solutions to secure a proper environment for sprinters so that they can resume training ahead of taking part in the forthcoming championships.
The gold medallist at the World Military Games in 2015 is set to kick off his official participation in Tokyo Olympics after an intensive training programme during the past months. He had attended an overseas camp in Antalya city in Turkey. The abroad gathering witnessed participation in many open and friendly athletics events with top runners in Turkey.
The selection of Turkey camp came due to proper weather conditions, the availability of many international teams and athletes, the organisation of many tournaments and open forums and providing the right environment for the Sultanate's runners to shape themselves for the Olympics.
Barakat, bronze medallist at the Asian Games at Guangzhou in 2010, managed to achieve advanced results including his initial participation at the International Athletics Open tournament in Turkey which was held in mid-April. He had snatched first place in the 100-metre distance running and completed the race in 10.49 seconds.
He had won the award for the best athlete in the Sultanate in2010, and bettered his own record in Antalya with a time of 10.33 seconds. After completion of Turkey camp, Barakat accompanied by his national coach, Mohammed Al Hooti headed to Tunisia to take part in the 22nd Arabian Athletics Championship which was held from June 16 to 20. During this top Arabian event, Barakat had claimed two medals for the Sultanate as he bagged bronze in the 100 metres distance running competition with a timing of10.43 seconds while he captured silver medal in the 4 X100m relay with a time of 39.95 seconds.
Commenting ahead of the race, Barakat said that the Tokyo 2020 Olympics will be tough as many of the top sprinters are taking part. "I am in good shape to show my best performance. The target is to advance into final stages and register new records," he added.
Amur ready for Olympic debut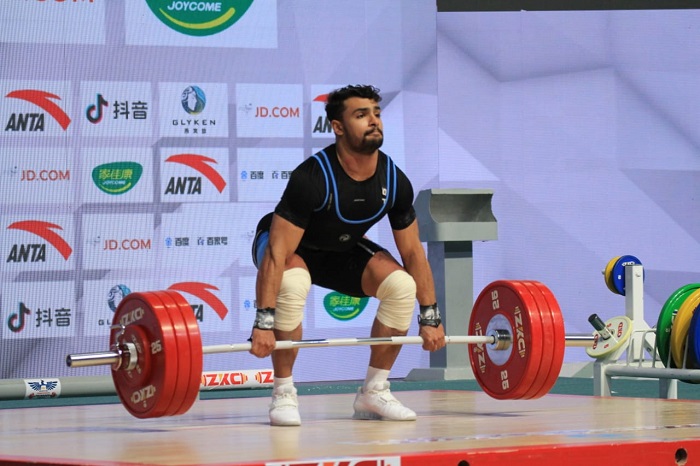 Oman's young weightlifter Amur Al Khanjari aims for a good result in his debut at the Tokyo 2020 Olympics. He will take part in weightlifting in the 81kg weight category on Saturday. Showing an outstanding performance will be his goal. The 21-year-old athlete got an Olympic invitation to participate in the showpiece event. Weightlifter Amur Al-Khanjari, who had completed his third secondary school exams a few days ago, wants to get the right exposure with world's top champions.
This will enable him to compete with the rest of his opponents who are participating from different parts of the world in the same category. Returning to the selection process,
Amur had shown his remarkable performance in the Arab Weightlifting Championship in 2018.
Mazoon finished sixth
Oman's sprinter Mazoon Al Alawi finished sixth in the preliminary heat three of the 100m race event on Friday at Olympic Stadium. She clocked 12:35 seconds and came sixth. Lloyd Joella (ANT) took the first place in a time of11.55s while Simwaka Asimenye (MAW) was the runner up in a time of 11.76s. Tehupeiory Alvin (INA) finished third in a time of 11.89s.
Scicluna Carla (MLT) qualified to round one as she clocked 12.11s and came fourth.