Muscat: Few people in Oman would have seen an Eid Al Adha such as this one in all their lives.
Eid Al Adha 2021 was one of contrasts: Although everyone in the country was required to stay home during a four-day total lockdown from 20 to 23 July, rescue teams from Oman's emergency services were tirelessly helping those impacted by the heavy rains and flooding that the country has witnessed over the past few days.
Meanwhile, doctors, nurses, and other healthcare staff continue to provide round-the-clock care to patients affected by COVID-19. At the start of the long Eid weekend, there were 21,792 people with the disease. 1,215 patients who were ill with COVID-19 had been admitted to hospital, and 444 of them were in intensive care.
With families unable to meet each other this Eid because of the lockdown, many understood the value of spending time with their immediate members.
Some, such as Hajar Al Harassi, chose to pass the time by watching movies, playing games, and preparing traditional Eid dishes with her family.
"We missed visiting our relatives and dropping in on our neighbours," said the native of Wilayat Rustaq in South Al Batinah, speaking to Times of Oman. "The lack of physical activity, however, meant we were afraid of gaining weight, and understandably, the children were upset because they could not go outside."
Adding to this, Abdullatif Al Ma'amari, said he chose not to look at the drawbacks of this Eid, but rather embrace the new opportunities it provided, primarily the division of household tasks among family members, and spending time together to discover each other's interests.
"The most important impact of the movement ban was the social aspect, undoubtedly," he said. "I miss the Eid activities, the usual traditions which begin with the Habta market, where people gather to sell livestock, halwa, toys, sweets, fruits, and vegetables. I miss the Eid prayer, the traditions associated with this festival, and the meeting of family and friends."
A very important part of Eid is the folk art, which varies from home to home, and the delicious food that is not to be missed, and tastes best when shared with others. Although it was not possible to enjoy these experiences this time, "we ask God that we are able to return to our amazing rituals as soon as possible," said Abdullatif.
"We need to adapt to the new variables and challenges we all face," he explained. "Regardless of their scale and impact, it is something we must all prepare for. To adapt to our current conditions is something new that I have learned, and this has made me experience a lot of new things, both personally and at a family level."
Bakhit Al Shibli spent Eid by playing indoor and outdoor games, reading books, organising quizzes, and doing puzzles together to while away the hours. Everyone in his family was required to suggest activities that could be done together, which were then arranged into a plan that could be followed during the holidays.
"We assigned roles to the entire family over what they needed to do, during Eid, so that we could gain the most fun from the activities we have planned," he recalled. "Happiness and joy, after all, come from within. On the first day of Eid, we set up a virtual family chat room, and wished each other for Eid, while showing off the various clothes we had bought. This really helped ease the mood, and it felt like we were all together."
Al Shibli and their family members then began the traditional sacrifice and the preparation of the Eid feasts in their own homes, sharing their achievements with each other through this WhatsApp chat group.
"We were chatting and joking with each other throughout," he said. "That evening, my daughter organised an event for all of us. It was great fun for all of us to attend."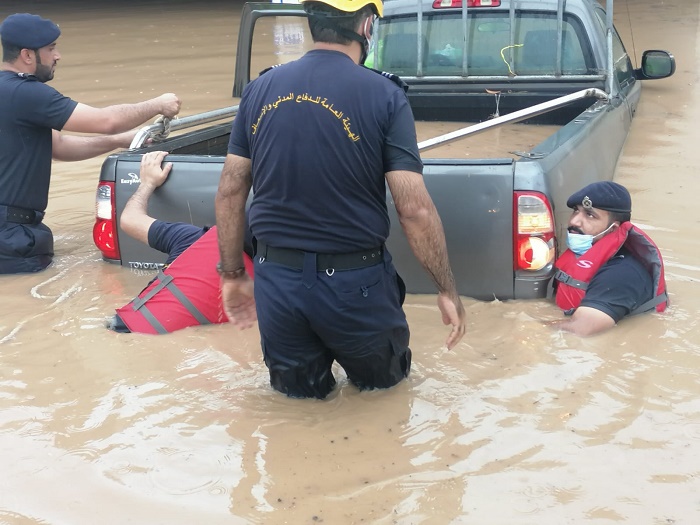 While families found ways to keep themselves occupied during the Eid holidays, teams from the Civil Defence and Ambulance Authority (CDAA) were engaged in relief operations in areas such as the Sharqiyah and Batinah regions, which had been strongly impacted by heavy rains, and had organised search parties to track down people who had been reported missing during the subsequent flooding.
Many homes in rain-hit areas suffered damage, while others collapsed, requiring the people within to be evacuated to shelters. Fast-flowing waters continue to flow through a number of wadis in the country, prompting the authorities to issue regular warnings reminding people not to cross them, either on foot or in vehicles. Those who do attempt to cross them could risk severe injuries and/or drowning.
On Saturday, 24 July, CDAA teams entered the ninth day of searching for persons reported missing in Sur. They continued to expand the area of their search, continuing to carefully comb their search zone for signs of the missing. Their attempts required personnel to use a combination of equipment, including inflatable rafts and drones, to access hard-to-reach areas.
Meanwhile, emergency service teams were deployed to the northern parts of the country along with water tankers, to clear flooded roads and debris to make them passable for people once again.
So that people affected by the rains could stock up on additional supplies, and help those requiring assistance, stores stayed open between 7am and 5pm, on 22 and 23 July.
To assess the damage caused by the flooding, Rashid bin Ahmed Al Shamsi, the Undersecretary of the Ministry of Social Development, accompanied by members of the Oman Charitable Organisation, visited stricken areas to see how rebuilding can best be done.
On a visit to Falaj Al Qabail in Wilayat Sohar, he also "learned about efforts made by field teams in charge of assessing the damage to homes, met the affected families, and discussed efforts being made for them to return their homes and to provide them with the necessary assistance," said the ministry in a statement.
Until 31 July, Oman will continue to be under partial lockdown, which runs every evening from 5pm to 4am. During this period, the movement of people, and the operation of businesses are prohibited.
More rain is expected over areas of Ash Sharqiyah, A'Dakhiliyah, and Adh Dhahirah over the coming days, and people are asked to once again avoid venturing close to wadis and other flood-prone areas.