BADAMI MURG TIKKA
Ingredients
500g, 2 inch boneless chicken pieces
Marinade
4 tbsp almonds, soaked in warm water, peeled and ground to a paste with 2 tbsp water
1 cup yoghurt, hang for ½ hour in a muslin cloth
1 tbsp ginger paste
1 tbsp garlic paste
1 tsp garam masala
½ tsp black cumin (shah zeera)
1 tsp red chilli powder
3 tbsp cornflour
3 tbsp oil
1 tsp salt
3 tbsp oil for basting
Garnish
Leftover marinade
A pinch of saffron soaked in 1 tbsp of milk
1 tsp chopped almonds
Preparation
Mix all the ingredients of the marinade and put the tikkas in it . Leave aside for 4-5 hours in the refrigerator.
Oil a wire rack of the oven. Place the tikkas on it, leaving behind the marinade. Pour or drip some oil on them to baste them.
Cover the plate in the oven beneath the rack with aluminium foil to collect the drippings from the tikka.
Place the tikkas in the oven at 180c and cook for 10 mins. Baste the tikkas again with some oil and grill for 5 minutes or more.
Transfer to a serving platter.
On a slow fire heat the left over marinade. When it begins to thicken, add the soaked saffron in milk and cook for 1 or 2 minutes.
Pour over the tikkas and garnish with chopped almonds and serve.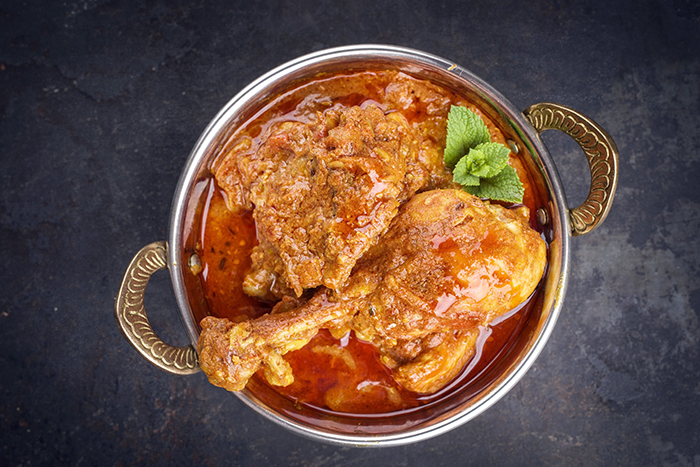 KASHMIRI CHICKEN CURRY
Ingredients
1 kg chicken
1 cup yoghurt
1/2 cup tomato puree
2 tbsp lemon juice
Salt to taste
1 tsp red chilli powder
1/2 tsp Kashmiri red chilli powder
1 tsp ginger crushed (not paste)
1 tsp garlic crushed (not paste)
4-5 green chillies
10-12 pine nuts blanched
1 tbsp dessicated coconut
2 onion medium
2 tbsp oil
1/4 cup + 1 tbsp butter
Coriander, finely chopped to garnish
Handful of pine nuts to garnish
Preparation
Marinate the chicken with yoghurt, lemon juice, red chilli powder, kashmiri red chilli powder, crushed ginger, crushed garlic and salt. Keep aside for 1 hour.
Make a paste of pine nuts and green chillies separately. Slice onions thinly and saute till golden brown . Crush the fried onions well.
Add chilli paste, pine nuts paste and crushed onion in the marinated chicken and mix well.
Heat 1/4 cup butter in a non stick pan, add tomato puree and cook till oil separates. Now add the marinated chicken and stir.
The yoghurt will release enough water to tenderise the chicken.
Once the yoghurt releases water, close the lid and let it cook on medium low heat for 15 minutes till chicken is cooked.
Add chopped coriander and mix well. Ganrish with pine nuts.
MUTTON QABOOLI
Ingredients
3 cups Basmati rice
1/2 cup oil
1 kg meat,cubed
2 thinly sliced onion
2 tbsp garlic paste
1 stick cinnamon
8 green cardamom pods
2 tsp cumin seeds
6 cloves
2 or 3 cups stock or water
Salt and pepper to taste
3 carrots( peeled and jullienned)
1/4 cup sugar
1/2 cup raisins, soaked in water and drained
1 tsp cardamom powder
Salt and pepper to taste
Preparation
In a large bowl, wash and drain the rice. Add more water to cover and set the rice aside to soak for 1 hour.
Heat 1/4 cup of the oil in a large, heavy-bottomed pot over medium flame and cook the meat till browned.
Remove the meat to a plate and set aside.
Return to pot and add the onions to the hot oil and sauté until softened, 4 to 5 minutes. Then add the garlic and whole spices and saute for another minute or so.
Return the meat to the pot and pour in the stock or water along with salt and pepper to taste.
Bring to a boil, then reduce heat to low, cover and simmer until the meat is tender.
Strain the meat, onions and spices from the broth and set aside, reserving the broth.
Heat the remaining 1/4 cup of oil in pot over medium flame. Add the carrots and saute for 1 to 2 minutes to soften.
Stir in the sugar and continue to cook for 1 or 2 more minutes.
Remove from heat and carefully stir in 1 cup of the reserved broth. Add in the raisins, cardamom and set aside.
Bring a large pot of salted water to a boil seperately. Drain the soaked rice and stir it into the boiling water.
Cook the rice for 5 minutes.
Then drain the rice, discarding the water, and place it into a large bowl.
Lightly oil or grease the inside of an large ovenproof pot with a lid.
Mix the remaining broth with the reserved rice. Spread half the rice smoothly over the bottom of the greased pot.
Spread the reserved meat and onions evenly over the rice. Top the meat with the carrots and raisins.
Finally, layer the remaining rice smoothly over the other ingredients in the pot.
Turn heat to low and cook for 25 minutes. Remove the pot from the heat. Gently fluff the rice.
Serve hot.
UMM ALI
Ingredients
200g puff pastry sheets torn to pieces
3 cups milk
3/4 cup condensed milk
1/4 cup sugar and more to garnish
Saffron strands, a few
4 tbsp slivered almonds
1 tbsp raisins
2 tbsp pistachios, chopped
3 tbsp dessicated coconut powder
1 cup heavy whipping cream
Preparation
To begin making Umm Ali, in a large saucepan, add half of the condensed milk, milk, 1/4 cup sugar and keep stirring till the sugar is dissolved.
Mix all the nuts and desiccated coconut to the saucepan, mix well till combined and set it aside to cool a bit.
Preheat oven for about 10 minutes at 350 F. Meanwhile, grease a square shaped baking dish then line up torn puff pastry on it.
Bake at same temperature for 18 minutes or till all the puff pastry gets all puffed up in the baking dish.
Pour the warm milk, condensed milk, sugar, desiccated coconut and nuts on the top. Let it soak well.
Meanwhile, in another bowl, add cream, remaining condensed milk, saffron strands and sugar.
Now pour it on the baked puff pastry on top. Garnish with remaining nuts and saffron.
Bake Umm Ali on 350 F for 20 minutes or till golden colour on top.
Serve warm.