Muscat: Sohar Port and Freezone has announced impressive results for the first quarter of 2021, recording growth in all categories of cargo in Q1 2021 over the same period last year.
As the rapidly growing complex continues to transform the Sultanate's burgeoning maritime and logistics industries, it reported that throughput increased by 21 per cent over the same period in 2020, dry bulk volume grew by 25 per cent to almost 9 million tons, breakbulk handling grew by 7 per cent to 426,783 and liquid bulk increased by 7 per cent to just over 4 million tonnes.
The number of handled containers increased by 1.8 per cent to 197,000 TEU. In addition, the port also recorded spectacular growth of a 200 per cent increase in Ship-to-Ship (STS) cargo given its strategic location and its reputation for delivering unmatched quality of service with quick turnaround times with our ever-growing STS Customer base.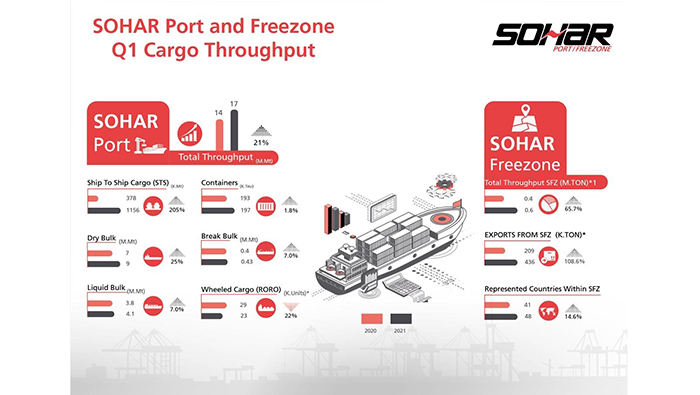 "The year-on-year throughput growth at Sohar Port and Freezone has transformed the Sultanate's capacity for worldwide trade. The first quarter results for 2021 show that there is a very strong demand for raw materials for industry and consumer goods, fuelled by the recovery of economies around the world. Our robust business continuity strategy and advantageous position at the crossroads of global trade routes has helped us to manage increased levels of cargo traffic and ensure a seamless and uninterrupted flow of operations to support the national economy," said Mark Geilenkirchen, Chief Executive Officer of Sohar Port.
Omar Mahmood Al Mahrizi, CEO of Sohar Freezone, Deputy CEO of Sohar Port, added, "SOHAR is positioned as a logistics gateway and is integral to bringing in the requisite goods to clients within the freezone and industries in the region relying on a steady flow of materials. Further expansion of the port will increase Oman's role as an international trade hub allowing us to attract more leading global partners and establish ourselves as the ideal location for business outside the Gulf."
Al Mahrizi added, "We are grateful to the entire Sohar team, both at the port and freezone and offshore, for their unwavering dedication during this period and we look forward to additional growth throughout the year."
Sohar Port and Freezone is renowned as one of the fastest-growing complexes of its kind in the world and is currently undergoing significant developments within its industrial cluster. Open 24 hours a day, seven days a week, it offers a myriad of incentives for businesses and investors, including easy set-up facilities and a One-Stop-Shop for regulatory procedures. Meanwhile, the port's own unique online route planner, 'Sohar Navigate', has been specifically designed to help companies use container transportation in smarter ways for their supply chain.