AVOCADO ICE-CREAM
Ingredients
2 large avocados (cut into half with pit removed)
1 teaspoon freshly squeezed lemon juice
1 can condensed milk
2 cups full fat cream
Preparation
Using a spoon, scoop out the flesh of avocado and drizzle with lemon juice.
In a blender, combine avocado and condensed milk. Blend until smooth.Transfer this to a large bowl.
In another bowl, add cream. Using a hand mixer at low speed, beat mixture until it begins to thicken. Continue to blend on medium speed for 5 to 7 minutes.
Add the whipped cream to the avocado bowl and mix well.
Transfer the mixture into a loaf tin. Cover with plastic wrap/ cling film.
Freeze overnight until firm. Serve frozen.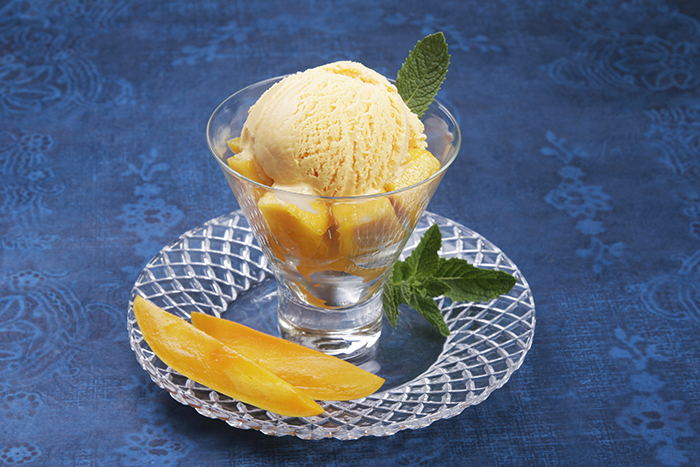 MANGO KULFI
Ingredients
1 cup whipped cream
1 cup mango puree
1/4 cup cold milk
1/2 cup condensed milk
3/4 teaspoon cardamom powder
2 tablespoons powdered pistachio for garnish
Preparation
In a mixing bowl ,add the whipping cream, mango puree, cold milk, condensed milk, cardamom powder.
Blend on a medium speed for 5 minutes till smooth.
Transfer to popsicle moulds and freeze overnight.8 and freeze overnight.
Serve frozen garnished with pistachio powder.
COCONUT ICE-CREAM
Ingredients
4 cup coconut milk
1 cup coconut flesh, finely chopped.
4 tablespoon corn flour
1 cup fresh cream
1/2 cup sugar
Preparation
Add the chopped coconut flesh to a large bowl and add 1/2 cup coconut milk in it along with corn flour. Mix well and keep aside.
Place a deep saucepan over medium flame, add the remaining coconut milk in the pan and bring it to a gentle boil.
Stir in sugar and continue to boil the mixture for 4-5 minutes till sugar dissolves.
Now add the coconut milk and corn flour mixture to the pan, and stir well. Turn off the flame.Allow to cool and add fresh cream.
Transfer the mixture into the blender and blend till smooth. Pour the mixture into a loaf tin. Cover with cling film.
Freeze overnight and serve frozen.