Embassy of India, Muscat, organised a special event on 19 June 2021, to celebrate the 7th International Day of Yoga (IDY). The event was held virtually due to COVID-19 pandemic restrictions on public assembly. The event saw enthusiastic participation of many Yoga lovers in Oman.
Theme of this year's IDY celebration is "Yoga for Wellness". The event was graced by H.E. Mohammed Ahmed Al Shanfari, Chief of West Asia Department, Foreign Ministry as Chief Guest and Dr. Hansaji J. Yogendra, renowned Yoga guru, author, and researcher as Guest of Honour.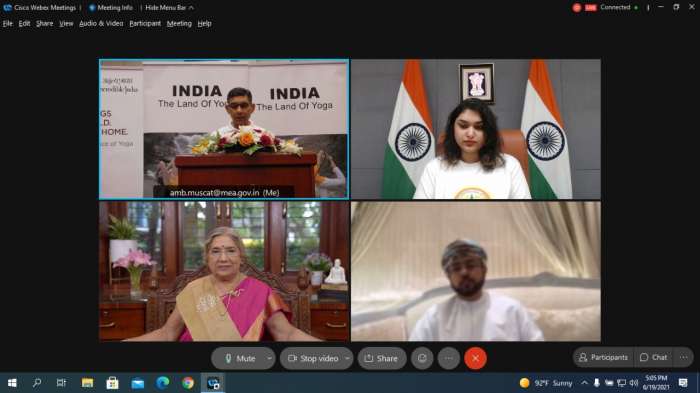 The official event started with a brief introduction on IDY, followed by speech of Ambassador of India to the Sultanate of Oman, Shri Munu Mahawar. Ambassador welcomed everyone and spoke on the wellness benefits of Yoga and Ayurveda. Ambassador expressed his gratitude to His Majesty Sultan Haitham Bin Tarik and Government of Oman for their constant support. Ambassador also thanked all the Yoga organisations in Oman for their continuous contributions for promoting Yoga.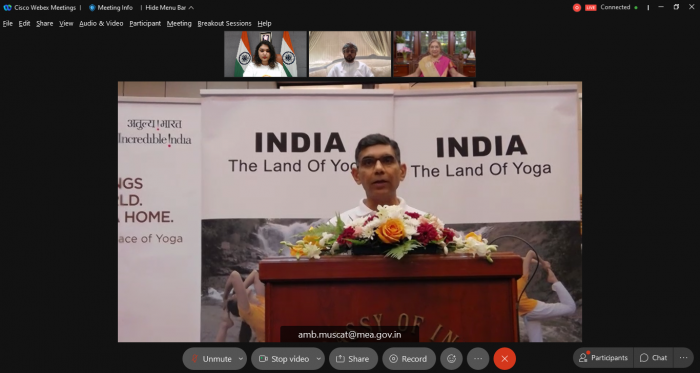 The Chief Guest, Mr. Mohammed Ahmed Al Shanfari conveyed his wishes on the occasion. Dr. Hansaji J. Yogendra delivered an engaging talk on Yoga and wellness. Short compilation of video messages by Omani and other dignitaries was played during the event.
The Embassy organized total 37 sessions online in association with various Yoga organisations in the run up to the main IDY event. The sessions were held on diverse themes including, Yoga for Immunity, Holistic Health, Mental Health, Women Well-being, Child Health & Youth, Surya Namaskar, Yoga at workplace, etc. which saw enthusiastic response.
The videos of entries received by the Embassy for Yoga demonstration video contests were played towards the end of event, after which the names of winners of all the contests were announced. The event concluded with Common Yoga Protocol, with all participants performing various Yoga postures in complete harmony.
Significance of International Yoga Day
International Yoga Day is celebrated every year on June 21st. Recognising this important role of Yoga, this year's commemoration of the International Day of Yoga focuses on "Yoga for well-being" - how the practice of Yoga can promote the holistic health of every individual.
Yoga is an ancient physical, mental and spiritual practice that originated in India. The word 'yoga' is derived from Sanskrit and means to join or to unite, symbolizing the union of body and consciousness. Today it is practiced in various forms around the world and continues to grow in popularity. Recognising its universal appeal, on 11 December 2014, the United Nations proclaimed 21 June as the International Day of Yoga. The International Day of Yoga aims to raise awareness worldwide of the many benefits of practicing yoga.
The United Nations offers yoga resources to its personnel and others on the COVID-19 portal's section on Wellness. The World Health Organisation mentions yoga as a means to improve health in its Global action plan on physical activity 2018–2030: more active people for a healthier world. UNICEF says kids can practice many yoga poses without any risk and get the same benefits that adults do. These benefits include increased flexibility and fitness, mindfulness and relaxation.
According to the United Nations this year the day will be marked at a time when COVID-19 pandemic continues to upend the lives and livelihoods of people globally.
Beyond its immediate impact on physical health, the COVID-19 pandemic has also exacerbated psychological suffering and mental health problems, including depression and anxiety, as pandemic-related restrictions continue in various forms in many countries. This has highlighted the urgent need to address the mental health dimension of the pandemic, in addition to the physical health aspects. The message of Yoga in promoting both the physical and mental well-being of humanity has never been more relevant. A growing trend of people around the world embracing Yoga to stay healthy and rejuvenated and to fight social isolation and depression has been witnessed during the pandemic. Yoga is also playing a significant role in the psycho-social care and rehabilitation of COVID-19 patients in quarantine and isolation. It is particularly helpful in allaying their fears and anxiety.