Muscat: TUATARA, an innovative business solutions provider, and ETCO, an International Emerging Technology Company, have signed a framework agreement to create a strategic partnership, developing technologically advanced solutions to support Omani society. This exciting combination of expertise will help to accelerate Oman into the digital age.
Innovative technologies towards digitalization

The global pandemic has forced us to change the way that we live and work. With many people staying at home, companies have increased their online business services; the huge uptake by the public demonstrating how important new technologies are for people. This trend has been recognized by entrepreneurs who have moved much of their business online, especially customer services. Digital transformation in the public and private sector has become invaluable, helping to cut costs, save time and minimalize the needs for personal contact, making a range of services easily accessible.
TUATARA and ETCO will innovate Oman's public and commercial sector, assisted by Artificial Intelligence (AI), Machine Learning (ML) and Natural Language Processing (NLP) technologies. This partnership is strategically strong, both companies' experience contributing to improving Oman's businesses with innovative solutions.
"I believe that the strategic cooperation between ETCO and TUATARA will continue building the foundations of e-government in Oman and improving people's lives in the digital space of public administration and commercial services. At TUATARA, we are a team of experts with interdisciplinary knowledge and an expanding portfolio of products based on artificial intelligence, machine learning, and cognitive technologies. When we combine our resources and know-how related to chatbot development with ETCO's expertise in NLP and Arabic language understanding, we will create a new chapter in the history of the digital state in Oman": Krzysztof Goworek, Chief Innovation Officer at TUATARA.
This innovative partnership aims to implement various technological improvements, with the intention of making the lives of the Omani people easier, and in line with the digital age:
1. Chatbots dedicated to the public, government and commercial companies, focused on voice recognition and synthesis, delivering 24/7 assistance, support and instant answers about important services;
2. E-learning solutions, allowing effective, convenient and flexible access to materials from various fields, enabling truly online learning experiences;
3. AI image processing tools that can be used in various areas, such as agriculture, satellite imagery analysis, medical and seismic imaging fields;
4. Translations, text corrections, or optical character recognition, beneficial especially in administration and document management.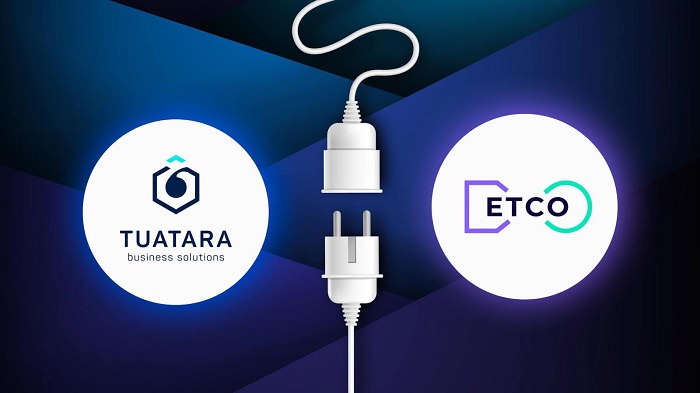 The strategic partnership between TUATARA and ETCO


The idea behind the combined expertise of TUATARA and ETCO is to support Oman's digitalization, ensuring easy access to a range of essential services. Existing solutions, along with new innovative approaches created as a result of their strategic partnership, will help Oman's digital transformation.
TUATARA and ETCO will improve Oman's public administration and private sector thanks to their developed technology:
1. Innovative and intuitive digital interface solutions that enhance the best possible user experience;
2. Natural Language Processing, supported with AI and chatbots, that allow understanding of language and the context of each conversation, making it smooth and attractive for customers;
3. QABAS platform that has one of the largest Unicode libraries of Arabic fonts, allowing capacity for sustainable language development, primarily through research, translation, training and materials development;
4. Custom IoT (Internet of Things) solutions to support the unique needs of businesses.
"Through this partnership, we aim to provide modern and high-tech solutions based on Natural Language Processing that will facilitate public citizen affairs in the digital space of public government and commercial services sector. We would like to leverage our expertise in cloud services and machine learning from the commercial services segment to translate this knowledge to the public administration sector, thus following Oman's 2040 digitalization strategy. Our collaboration with an experienced partner like TUATARA will accelerate the implementation of chatbots with Arabic language understanding and thereby improve people's livesthe lives of Omani citizens": Tariq Al Bulushi, Vice President Technology ETCO.
Both TUATARA and ETCO are hyper-focused on improving user experience through cutting-edge technologies. Their co-operation will bring many benefits by automating and innovating important processes and making changes to everyday lives. Introducing e-learning, supporting local talents, ensuring internship programs for graduates, or offering work to Omani specialists are only a few examples of the companies' future actions.

A forward-thinking approach


TUATARA has developed a portfolio of successful partnerships based on the desire to achieve mutual goals. The company provides dynamic solutions adapting to the changing needs of customers. The experience gained by TUATARA will be used in creating a long-lasting, successful and powerful partnership with ETCO, which will be in line with Oman's digitization strategy for 2040. Both companies are committed to exceeding the expectations of their customers in the digital space and are determined to use their skills to secure Oman's technological future.