HANDVO ( INDIAN SAVOURY STEAMED LENTIL CAKE)
Ingredients
1 cup rice
1/4 cup chana dal
1/2 cup moong dal
1/2 cup tuvar dal
1 tsp ginger and green chillies paste
1/2 tsp baking powder
1 tsp baking soda
1/2 cup yoghurt
1/4 tsp turmeric powder
1 tsp salt
Vegetables:
3/4 cup grated carrots
3/4 cup grated cabbage
1/2 cup grated bottle gourd
3/4 cup peas
For tempering:
1 tbsp oil
a pinch of asafoetida
1 - 2 tbsps sesame seeds
1 sprig curry leaves
1 tsp mustard seeds
Preparation
Rinse and soak the rice in 2 cups of water.
Mix the three lentils together, rinse them with water 2-3 times and soak for 5-6 hours.
Drain the soaked dal and rice and grind into a smooth paste. Add the green chillies and ginger paste and mix well.
Pour into a large mixing bowl and add the yoghurt. Stir well to combine.
Cover tightly and keep in a warm place overnight to ferment.
To prepare handvo, take the fermented batter. Add in the vegetables and season with salt and turmeric powder. Give the batter a good stir.
Steam the batter for 15 minutes on high to medium high.
Once done, remove and cool for 5 min. Keep a plate to cover the pan, invert the pan so that the cake comes out neatly onto the plate.
Heat the oil, once hot add the tempering ingredients.The moment the ingredients crackle, turn off the flame and garnish the handvo cake with the tempering.
Serve hot.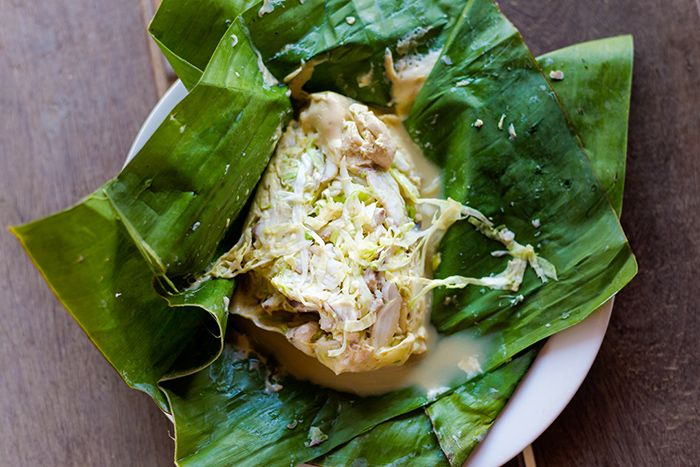 MOK PA ( THAI STEAMED FISH IN BANANA LEAVES)
Ingredients
300g white fish fillets
2 tbsp finely chopped fresh lemongrass
2 kaffir lime leaves, finely chopped
2 cloves garlic, minced
1 small onion, finely chopped
1/2 inch ginger, grated
1 chilli birds eye
1 tsp rice flour
1 tbsp fish sauce or soya sauce
1 egg
1-2 spring onion / green onion chopped
handful Thai basil leaves
8 sheets of banana leaf
Preparation
Place the lemongrass, kaffir lime leaves, garlic, onion, ginger, and chilli in a blender and blend to a smooth paste.
Place the fish into a mixing bowl. Add the herb paste, rice flour, fish sauce or soya sauce and egg. Mix well.
Add in the spring onion and basil. Continue to mix until well combined.
Lay out two square pieces of banana leaf per fish parcel.
Place a ladle full of fish and herbs in the centre of the leaf.
Fold the bottom edge of the leaf up to meet the top edge.
Pinch the top and fold the left side in, then wrap the triangular shaped edges around the main parcel. Repeat for the right side.
Pin the tops together with a toothpick.
Place parcels into a bamboo steamer. Cover and steam for 30 mins.
Serve hot.
STEAMED CARAMEL CUSTARD
Ingredients
For custard
1 cup full fat milk
2 eggs
1/2 cup sugar
1/2 tsp vanilla essence
For caramel
1/3 cup sugar
2 tsp water
Preparation
Add sugar and water to a stainless steel pot. Heat on medium flame till sugar melts.
Swirl the pot occasionally for the sugar to crystallise.
When the sugar completely dissolves,it starts turning golden. Keep swirling it on heat till the color becomes golden brown.
Remove from heat and swirl the caramel around inside the pot before it hardens.
In another bowl,proceed to make the custard by beating eggs and sugar.
When the sugar dissolves, add milk and vanilla essence. Mix well.
Pour this custard mixture in the pot with caramel.
Cover the pot with foil and poke a few holes with a toothpick.
Place this pot inside a steamer and cover it.
Steam for about 25 minutes till cooked.
Once done when you insert a toothpick in the pudding, it should come out clean.
Leave aside to cool. Before serving, invert into a serving dish .