Muscat: The online symposium on Recent Trends In Engineering Research was organised by the College of Engineering, National University of Science and Technology, Oman on May 23.
The opening address of the Symposium was given by the Honorable Vice-Chancellor, Dr Ali Al Bimani of the National University of Science and Technology. The symposium aimed to bring together the Scientists, Researchers and Educators for the meaningful exchange and sharing of their research expertise.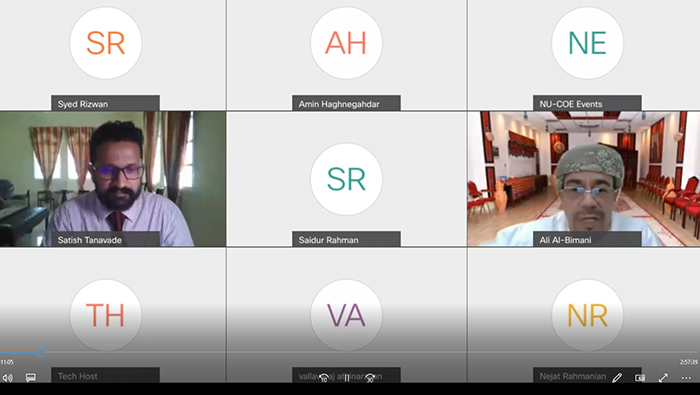 Distinguished researchers in nanomaterial, water resources, carbon capture, and reliability have addressed the target audiences about the recent developments in these areas.
Prof Saidur Rahman, a Distinguished Research Professor & Head of Research Centre for Nanomaterials and Energy Technology, School of Science and Technology, Sunway University, Malaysia enlightened us on the recent research in Nanomaterials M'Xene and its revolutionary applications. He described the process of obtaining the Mxene nanomaterial and its revolutionary applications in the field of energy storage and heat transfer.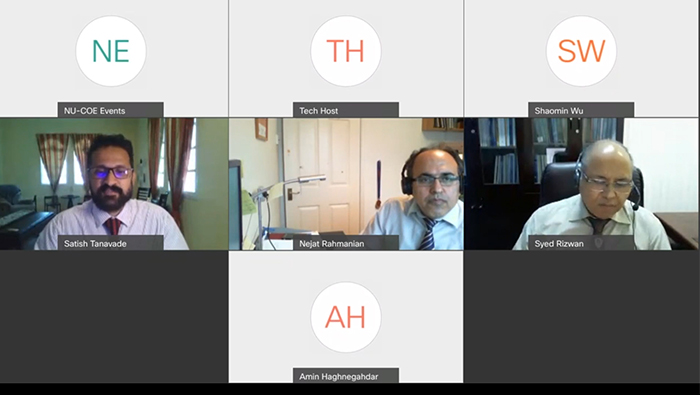 Dr Nejat Rahmanian from the University of Bradford, United Kingdom threw light on a very crucial topic "Carbon Capture and Storage". He deliberated on the need of capturing Carbon dioxide and its disposal for arresting global warming. He explained the interlinkages between various complex issues such as GDP, Circular economy with Carbon Capturing.
Professor Shaomin Wu from Kent Business School, United Kingdom shared his recent findings on "Reliability assessment for a multi-component system with masked failure data", and some useful approaches for approximating the superposition of renewal processes were suggested from industrial systems maintenance perspective.
Finally, Dr Amin Haghnegahdar, from the University of Saskatchewan, Canada presented his insightful research on "Value of Sensitivity Analysis for Advanced Water Resources Modelling" for all of the audience. In his keynote, Dr Amin outlined the various fields of application for the Sensitivity Analysis tool apart from water resource modelling.
In general, the symposium was a great success and a good interaction noted with extensive question and answer sessions at the end of each keynote. Finally, the symposium was concluded by the chair of the Research and Innovation Committee, College of Engineering, Prof Syed Mohammed Rizwan, with a vote of thanks to the speakers, participants, organising committee and finally but not least he thanked the Dean of the College of Engineering, Dr Ahmed Hassan Al Bulushi for his unconditional support to promote and organise such events.